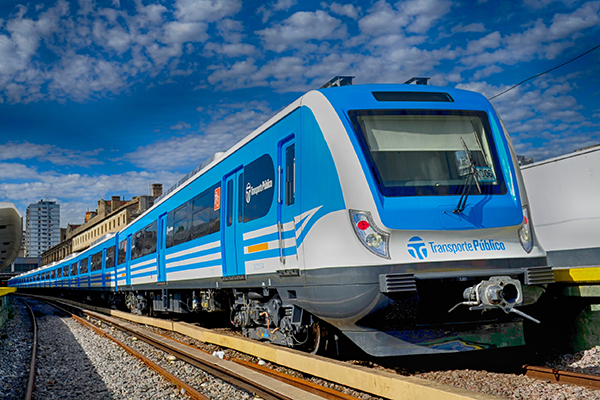 China-made high-speed train in Buenos Aires, capital of Argentina. [Photo/Xinhua]
Chinese companies prepare to modernize rail systems globally
The capacity to manufacture and export top-end high-speed trains and related equipment is giving a new sheen to the image of China, for long considered maker of low-quality, cheap goods like bags, shoes and lighters.
Even foreign governments and corporate clients are sitting up and taking notice.
China is in talks with more than 30 countries including the United States, Russia, Brazil, Thailand, Turkey, Saudi Arabia and Iran about high-speed rail projects, said Wang Mengshu, a deputy to the National People's Congress and deputy chief engineer of China Railway Tunnel Group Ltd.
"China's first high-speed rail project in Indonesia will arouse more countries' interest, which are keen to put their economic growth on a firmer footing through efficient transportation systems and regional connectivity," said Wang.
China was selected by the Indonesian government to build the nation's first bullet rail link-the 150-kilometer Jakarta-Bandung link last year. It is responsible to construct the $5.5-billion high-speed railway line from Jakarta to Bandung in the Southeast Asian country.
With the operational date scheduled for 2019, the project will be developed by PT Kereta Cepat Indonesia-China, a joint venture formed in October 2015 between a consortium of Indonesian state-owned companies and China Railway International Co Ltd, a subsidiary of China Railway Corp Group.
The project is financed through a Chinese loan provided by China Development Bank which provides around 75 percent of the funding, with the rest arranged by the joint venture partners.
"Even though China is a latecomer to the field in comparison with its German and French rivals, its rail equipment companies have thrived thanks to cost advantages, reasonable delivery times and flexible financing models," Wang said.
Eager to compete with established rivals in Europe, Japan and Canada, China will further develop "smart trains", which apply intelligent technology that will allow trains' speed control, condition determination and fault detection to be performed digitally, Wang said.
The Chinese government announced in September a 370-kilometer high-speed railway project between Las Vegas and Los Angeles will be built by a joint venture by Chinese rail companies, including China Railway Construction Corp, China Railway Corp, and XpressWest Enterprises, a US passenger rail service provider.
The construction work between Nevada and California is expected to start as early as this September, and the estimated investment for the project is $12.7 billion.
【1】
【2】
【3】