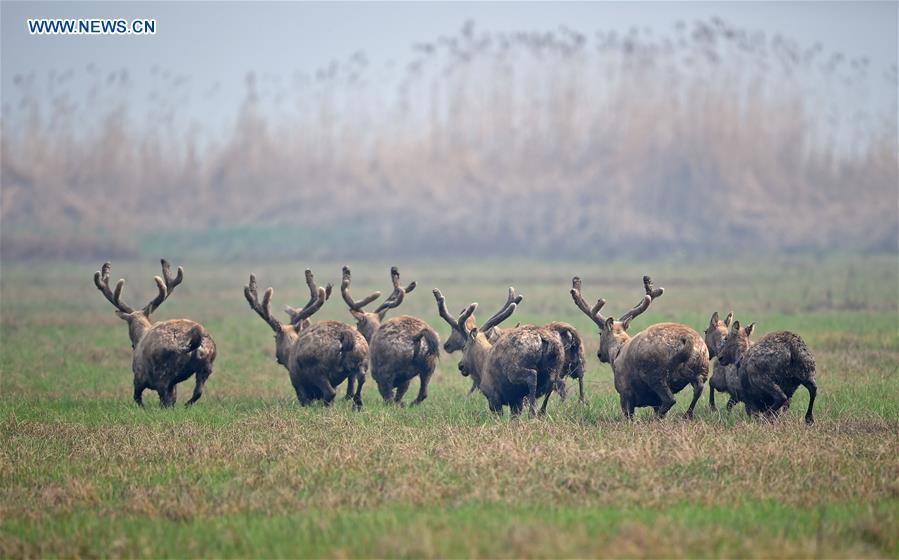 Mooses run at the East Dongting Lake National Nature Reserve, central China's Hunan Province, March 3, 2016. 16 mooses from the Dafeng Moose National Nature Reserve of Jiangsu Province were released to the East Dongting Lake National Nature Reserve of Hunan Province on Thursday. (Xinhua/Li Ga)
CHANGSHA, March 3 -- Sixteen captive Pere David's deer were released on Thursday to join their peers who have been living around central China's Dongting Lake since they escaped captivity in the 1990s.
The deer, 11 female and 5 male, were raised in Dafeng Reserve in east China's Jiangsu Province. They were fitted with GPS devices before being reintroduced to the wild.
Almost driven to extinction, around 100 deer were counted in the most recent census of the species around the Dongting Lake area in Hunan Province. It is hoped that the new additions will enrich the gene pool and boost the population.
During a catastrophic flood in 1998, a handful of deer escaped from Shishou Nature Reserve in neighboring Hubei Province, crossing the Yangtze River to settle in the reed beds and marshlands by Dongting Lake.
Pere David's Deer are believed to be endemic to China's subtropical areas. Chinese call them "sibuxiang," meaning like "none of the four." This refers to the fact the deer has a neck like a camel, the tail of a donkey, cow-like hooves and deer-like antlers.
The species was named after Armand "Pere" David, a Basque missionary and the first Westerner to introduce the animal to Europe in the late 19th century.
The deer was left extinct in China by 1900 due to natural disasters and overhunting. In 1985, 22 specimens were brought to China from the world's only herd in Bedfordshire, the United Kingdom.
China is now home to two-thirds of all the Pere David's Deer in the world, around 3,000 living in three specialized reserves in Beijing, Hubei and Jiangsu. Hunan's Dongting Lake, however, claims the title of having China's largest population of free roaming Pere David's Deer.
"Besides a large area of water and beaches, the lush vegetation of Dongting Lake provides enough food and suitable shelter for the deer," said Song Yucheng, a Pere David's Deer expert.
On the occasion of the 30th anniversary of the deer's China return, experts noted that due to their youth, the deer around Dongting Lake were almost completely wild.
Thursday is the United Nation's World Wildlife Day. On its official website, the UN Secretary-General Ban Ki-mooncalled for raised awareness of the multitude of benefits that conservation provides to people, saying that "the future of wildlife is in our hands."
Song said by tracking the 16 released deer, zoologists could collect information on the species' living habit, routines and environmental demands, which could help protection efforts.
【1】
【2】
【3】
【4】
【5】