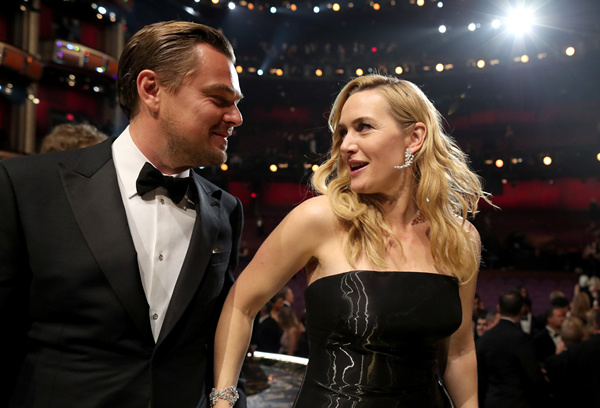 Leonardo DiCaprio and Kate Winslet attend the 88th Academy Awards in Hollywood on Sunday. DiCaprio won the Best Actor award for his role in The Revenant. CHRISTOPHER POLK / AFP
Film fans in China were elated on Monday after Leonardo DiCaprio's first Oscar win — for Best Actor — at the coveted Academy Awards.
While not many of them have seen The Revenant, which will be screened on the Chinese mainland on March 18, they had been rooting for "Little Li", an affectionate nickname for the star, since coverage of the Oscars became routine in the country.
Chinese fans share with their peers from other countries their love and support for DiCaprio, but what sets them apart is their exclusive focus on him.
Issues such as "white dominance"at the Oscars, and even the nominated movies, received little attention in China.
DiCaprio's image as a teen heartthrob from the blockbuster movie Titanic has been indelibly etched on the minds of many fans.
They saw his later movies that were nominated, which had much narrower exposure, as outright attempts to win Hollywood's biggest honor. This reached fever pitch when he was nominated for The Wolf of Wall Street, unleashing a barrage of appeals, both online and in mainstream media, for the Academy's recognition.
The reason DiCaprio attracts tidal waves of sympathy is his star power. Titanic, released in 1998 in China, was the nation's box-office champion for many years, and even a rerelease in 3-D in 2012 earned 982 million yuan ($150 million), more than the latest Star Warsmovie.
The red wristband DiCaprio wore at the awards ceremony was instantly copied and made available at online stores for 15 yuan apiece, supposedly "for turning around fortune".
Before nominations were announced in January, all three Chinese-language submissions for Best Foreign Language Film failed to make the cut.
The mainland submission, Wolf Totem, was a commercially successful but controversial choice.
When the Academy turned it down, alleging that Chinese had too little artistic control as it had a French director and some non-Chinese behind-the-scenes talent, the news did not gain much attention in China.
But the replacement, Go Away Mr. Tumor, had many scratching their heads. Both titles failed to make any top-10 lists on home territory, and their selections were widely considered not to represent the country's best achievement in the art of film.