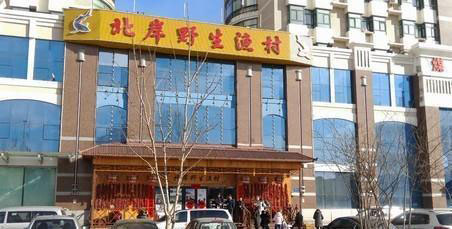 The wild fish restaurant is ordered to shut down in Harbin, northeast China's Heilongjiang Province. [Photo: zjol.com.cn]
The owner of a restaurant who has allegedly ripped off diners during the Lunar New Year holiday is to face a fine of 500,000 yuan (about $77,000) in Harbin, northeast China's Heilongjiang Province. The restaurant has also been ordered to shut down, according to the Xinhua News Agency.
Chen Yan, a tourist from Changzhou, east China's Jiangsu Province, complained online on February 12 that he was being overcharged 10,000 yuan (about $1,535) for three big fish at a local wild fish restaurant in Songbei District of Harbin.
Worse still, he alleged his family members were beaten and threatened by the restaurant staff when he questioned the bill.
Chen's complaint immediately went viral on China's social media.
The initial probe results by some local government departments showed that the restaurant had no fault, since they had already tagged the price, which raised doubt among netizens again.
Further investigation showed that one type of the fish served, huso, was not the real wild species, but a sort of farmed fish at a much lower price. Since the exorbitant prices of the fish do have violated the rights of consumers, the restaurant got its due punishment.
Meanwhile, relevant government departments that have stood by the side of the restaurant in the first place would also be investigated and punished.
Similar cases of fraudulent pricing at scenic spots have also been reported elsewhere in China. In October 2015, for instance, a tourist was overcharged 1,520 yuan for a course of shrimp in the coastal city of Qingdao, east China's Shandong Province, when the restaurant claimed the quoted price of 38 yuan was not for the course of the dish, but for each shrimp.