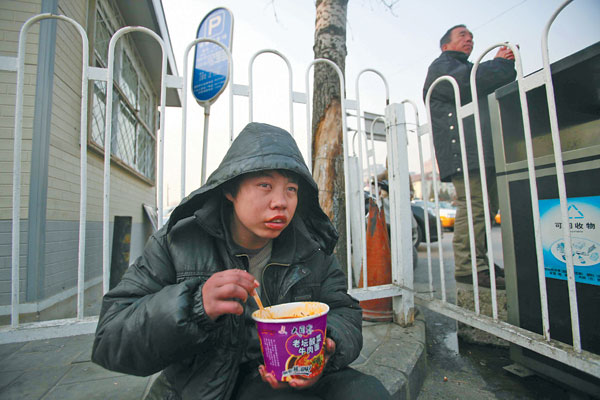 A teenager, unsure of his identity and living on a street corner near Beijing Railway Station, is helped by China Daily photographer Wang Jing on Tuesday before being taken to a care center. [Photo by Wang Jing/China Daily]
Demand for DNA tests has soared in Southwest China's Sichuan province as unregistered citizens look to obtain household registration permits following a national policy change.
A directive issued last month by the State Council instructed all regional governments to devise new ways of registering citizens that do not have a household registration, or hukou.
Around one percent of China's population, or 13 million people, are unregistered according to the latest national census data-and although detailed implementation rules have yet to be unveiled, it is believed DNA paternity testing will form a key part of their hukou applications.
Genegle Forensic, a private scientific institute in Sichuan's capital of Chengdu, received so many requests for DNA testing over the Spring Festival holiday that for the first time its staff could not take time off.
They carried out 40 paternity tests and answered more than 300 calls inquiring about testing in the space of one week, according to Chengdu Commerical Daily, which reported that more than 100 such tests had been carried out in the city of 15 million permanent residents since mid-January.
The most common reason for someone not to have hukou is that they were born in violation of China's recently-abolished one-child policy, to parents who could not afford to pay the hefty fine required to register them legally.
Other "black" children, as they are referred to in Chinese media, were born out of wedlock or do not have a legal birth certificate.
Hukou is important because it provides access to state education and healthcare, and those without it can find it difficult to open a bank account, get married or find formal employment.
Liu Bing, a resident of the Chengdu suburb of Jintang, said he was waiting for detailed rules to be released before he attempted to get his adopted daughter a hukou.
As a third child, she was born in violation of the family planning policy in place at the time and was never officially registered.
Liu said he had spoken with a Genegle Forensic representative, who suggested obtaining a paternity test from the girl's parents and applying for hukou under their name before transferring it to him after he proved the adoption was legal.
Zhang Yuan, from the company, said that they had "felt the effects of the central government decision in mid-January almost instantly."
Most customers came from outlying areas to the city's northeast such as Jintang county and Qingbaijiang district and paid between 2,000 ($307) to 5,000 yuan for the test, he said.
Wu Feng, chairman of Chengdu Forensic Expertise Association, predicted a "steep rise in testing cases around the country" as each regional government formulates its own detailed implementation rules.