S.Korea strongly denounces DPRK's fourth nuclear test
(
Xinhua
) 14:36, January 06, 2016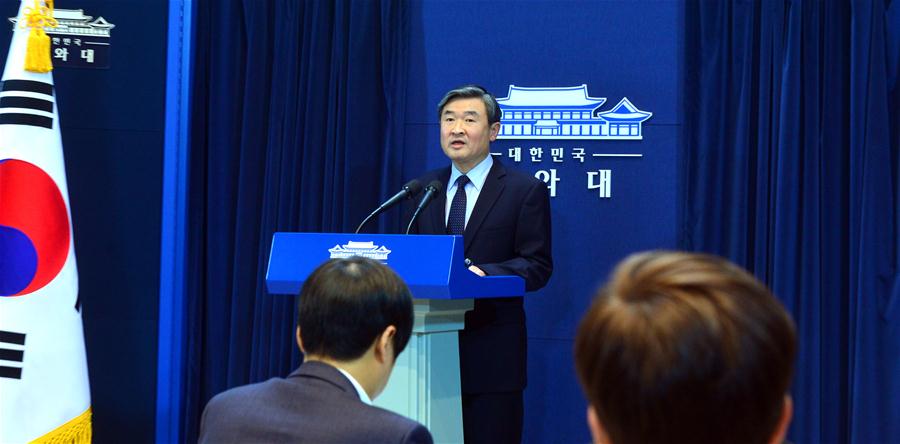 Cho Tae-Yong, the first deputy chief of the presidential security office, reads a statement at the presidential office in Seoul, South Korea, on Jan. 6, 2016. South Korea's presidential office Cheong Wa Dae strongly denounced the Democratic People's Republic of Korea (DPRK)'s fourth nuclear test in its official statement. (Xinhua/NEWSIS)
South Korea's presidential office on Wednesday strongly denounced the fourth nuclear test by the Democratic People's Republic of Korea (DPRK), pledging to take all necessary measures like sanctions by UN Security Council.
Cho Tae-Yong, the first deputy chief of the presidential security office, read a statement at the presidential office, saying that the country will closely cooperate with its allies and participants of the six-party talks to denuclearize the Korean peninsula and make the DPRK pay a price corresponding to its nuclear test.
The government statement said that Seoul strongly denounces the DPRK's fourth nuclear test in clear violation of the UN Security Council resolutions and in defiance of the international society's repeated warnings.
The DPRK should clearly recognize that the international society and South Korea will never tolerate Pyongyang's possession of nuclear weapons, the statement said, calling on the DPRK to dismantle all of its nuclear and ballistic missile programs in a complete, verifiable and irreversible manner.
Cho said that the government will maintain water-tight defense readiness against any possible DPRK provocations that pose threat to its people's lives and the country's security.
【1】
【2】
【3】
【4】
【5】
【6】
【7】
【8】
【9】
(Editor:Kong Defang,Bianji)
Related reading