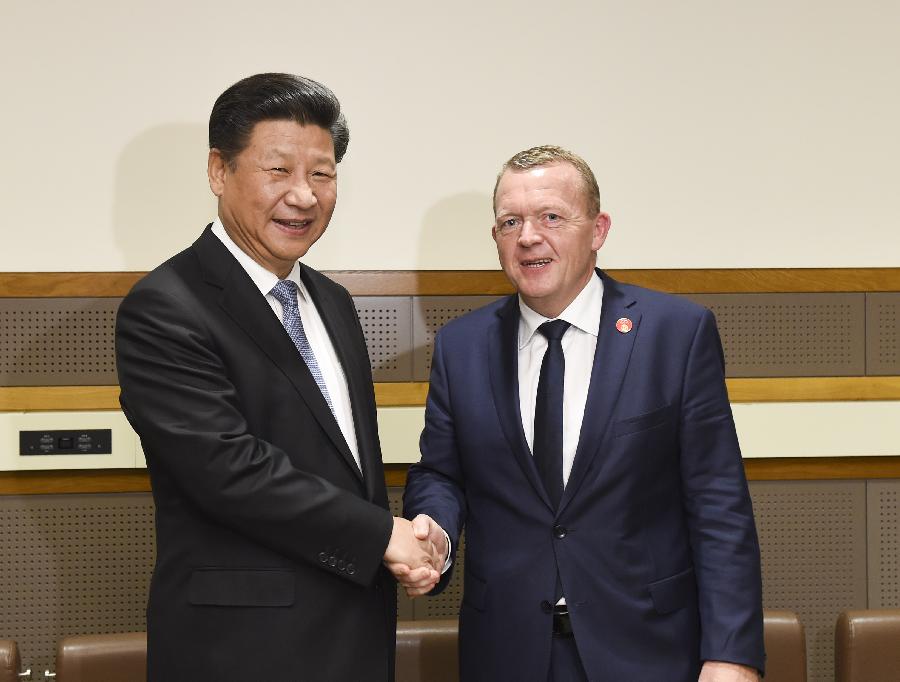 Chinese President Xi Jinping(L) meets with Danish Prime Minister Lars Rasmussen in New York, the United States, Sept. 28, 2015. (Xinhua/Li Xueren)
UNITED NATIONS, Sept. 28 (Xinhua) -- China is ready to further enhance cooperation with Denmark on major global issues like climate change and Arctic scientific exploration, Chinese President Xi Jinpingsaid here Monday while meeting with Danish Prime Minister Lars Loekke Rasmussen.
The two sides should also improve political mutual trust, continue to respect each other's core interests and major concerns, and expand coordination within the United Nations and other international organizations, Xi said.
The two leaders' meeting took place on the sidelines of the ongoing general debate of the United Nations General Assembly, at which Xi delivered a speech on Monday morning.
Reviewing the "fruitful exchanges and cooperation" between the two countries, Xi noted that bilateral trade has exceeded 10 billion U.S. dollars, with China having become Denmark's top trade partner in Asia and second-largest overseas destination for investment.
Cooperation in the areas of science and education, agriculture, medicine, energy saving and environmental protection has also enjoyed smooth progress, Xi said.
China will earnestly look at the possibility of carrying out third-party cooperation with Denmark, he said, adding that the two sides should enrich their mutually beneficial cooperation and expand technological and personnel exchanges in the field of sustainable development.
China welcomes Denmark to play an active role in the Silk Road Economic Belt and 21st-Century Maritime Silk Road Initiative, so as to promote regional connectivity and economic growth, he added.
The Belt and Road Initiative, which was announced by Xi in 2013, is aimed at promoting connectivity, cooperation and common prosperity along the ancient land and maritime trade routes.
The two countries should also consolidate public support for sound bilateral relations by enhancing youth and student exchanges and providing more convenience for travels and visits, suggested Xi.
Stressing that China has always supported the European integration process and wants to see a prosperous Europe, united European Union(EU) and strong euro, Xi expressed the hope that Beijing and Copenhagen will join hands to continuously push forward China-EU relations and cooperation between China and the Nordic countries.
The Chinese leader pointed out that the 2015 United Nations Climate Change Conference, scheduled for later this year in Paris, is expected to conclude negotiations on a new climate change deal.
The "Enhanced Actions on Climate Change: China's Intended Nationally Determined Contributions" document, which China submitted to the UN in June, represents Beijing's utmost efforts for achieving the goals outlined in the UN Framework Convention on Climate Change, and marks a practical measure to ensure the success of the Paris conference, Xi said.
China, he added, is ready to work together with Denmark, in line with the principles of common but differentiated responsibilities, fairness and respective capabilities, to push for an all-round, balanced and forceful new deal at the Paris conference.
For his part, the Danish prime minister noted that as the two countries celebrate the 65th anniversary of the establishment of diplomatic ties this year, Denmark is glad to see the rapid development of its relations with China.
The Danish government is devoted to continuously deepening the friendly cooperative relationship with China, and ready to further increase high-level exchanges, enhance political and practical cooperation and promote people-to-people exchanges between the two sides, said Rasmussen.
He added that Denmark appreciates China's important role and positive contribution in such areas as climate change and sustainable development, and wants to further strengthen communication and cooperation with China within relevant multilateral frameworks.
The Chinese president is leaving New York for Beijing on Monday afternoon after a three-day stay in the metropolis for a series of activities at the UN headquarters and a four-day state visit to the United States, his first since assuming office in 2013.
【1】
【2】