49 achievements listed, as views align on issues including climate change, cybersecurity, education
President Xi Jinping's state visit to the US has generated "fruitful" results, especially in coping with climate change, fighting cybercrime and enhancing bilateral cooperation, experts said.
A total of 49 achievements were made during Xi and his US counterpart Barack Obama's summit on Friday in the White House and a three-hour-long talk on ties in the Blair House on Thursday night, covering a wide range of issues regarding investment, people-to-people exchanges, climate change and coordination and cooperation in multilateral affairs, according to Xinhua News Agency.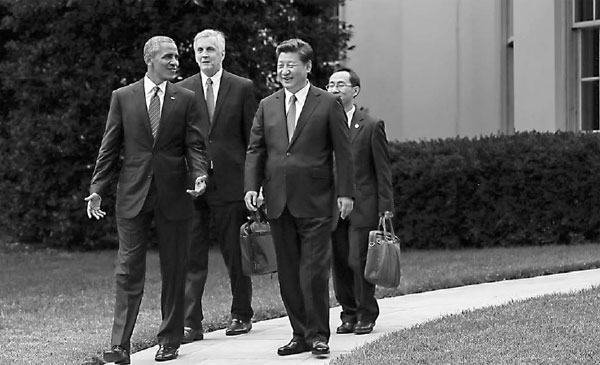 President Xi Jinping walks on the grounds of the White House in Washington, DC, with US President Barack Obama after they gave a joint news conference on Friday. Lan Hongguang / Xinhua
Xi described his first state visit to the US as "fruitful", as it sent a positive signal that the two countries will strengthen cooperation and jointly cope with challenges, while addressing a welcoming luncheon on Friday hosted by US Vice-President Joe Biden and Secretary of State John Kerry at the State Department.
Growing relationship
Xi and Obama agreed to continue their endeavor to build a new model of major country relationship between China and the US based on mutual respect and win-win cooperation.
Li Haidong, a professor of American studies at China Foreign Affairs University and currently a Fulbright visiting scholar in Washington, DC, said the meaning of the new relationship has been "consolidated and filled out" during Xi and Obama's talks.
Fan Jishe, a US studies researcher at the Chinese Academy of Social Sciences, said that reaffirming the new model at this point will give the two sides a chance to better understand each other's strategic stance and clear the air of unnecessary doubts and concerns.
Climate change
Xi and Obama issued a new China-US Joint Presidential Statement on Climate Change, reiterating their resolve to work together and with others toward an ambitious, successful outcome at the upcoming climate conference in Paris.
The two reinforced the implementation of the China-US Joint Announcement on Climate Change made on Nov 12 last year during Obama's state visit to Beijing, to support industries and the environment, and to improve citizens' healthcare and quality of life.
Fan said China's commitment to deal with climate change, a challenge on top of Obama's political agenda, has demonstrated to the globe its willingness to "make contributions to the international community and assume more responsibility".
"This can't be done, if China or the US declines to jump in," Fan said.
Li said China's generous commitment to cope with climate change has lessened the finger-pointing from the US government and their policymakers and earned more of their confidence.
Cybercrime
Neither government will engage in or knowingly support online theft of intellectual property, Xi said at a joint news conference after the summit at the White House, adding that the two sides will explore the formulation of appropriate norms of behavior in cyberspace.
The two countries have also agreed to establish a high-level dialogue mechanism on the fight against cybercrimes, Xi said.
"China and the United States are two major cybercountries and we should strengthen dialogue and cooperation," Xi said, adding that confrontation and friction are not the right choices for both sides.
Fan said the US government has been trying to draw a line between commercial theft and intelligence gathering, which is not easy in practice.
"China and the US have demonstrated their willingness to seek common ground, manage the disputes and come up with something that both sides could accept," Fan said.
Obama also stressed the importance for the US and China to work with other countries and the UN, as well as the private sector, to start developing a protocol to govern behavior in cyberspace.
Li said as cyberspace has blurred the concept of boundaries between nations and sovereignties, it needs to have a new set of rules to deal with problems when frictions emerge among nations.
"Under the new security circumstances, big countries like China and the US ought to work together and explore new rules in cyberspace."