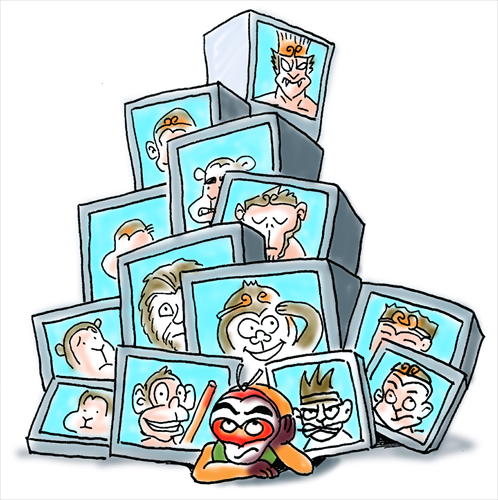 Illustration: Liu Rui/GT
The box office hit of the moment is an animated film about perennial Chinese favorite the Monkey King, Monkey King: Hero is Back. On the one hand, this is a rare score for Chinese animation, at least domestically. And it looks good compared to complete rip-offs of Western cartoons such as the infamous Autobots, just pulled from cinemas, which allegedly stole its name from Transformersand its designs from Pixar's Cars.
Yet it's hard to tell how competitive Hero is Backwould be if put up against the Hollywood animations of the moment, like the brilliant Inside Out.
Friends of mine with kids said they went because it was the only half-decent thing in the cinema suitable for children, and were disappointed in the quality.
I haven't seen the film - and to be honest, nothing I've heard gives me any desire to see it. Isn't it about time Chinese filmmakers left poor old Sun Wukong, the Monkey King, alone? This is the second movie - at least - about him this year, after the release of Donnie Yen-starring Hong Kong flick The Monkey Kingon the mainland this January.
Indeed, every year it seems as though there's another remake of Journey to the West, the classic 16th century novel the heroic trickster is drawn from, or some other event featuring the overworked simian. The jade band that tightens around his head when the right sutra is chanted for punishment must seem light compared to being forced to star in dozens of terrible films.
There's nothing wrong with the occasional use of the Monkey King, of course. He's a very appealing character. The 1965 Havoc in Heaven, a cartoon about his smashing up various gods before being beaten by the Buddha, is still pretty great. Older British and American audiences still recall the Japanese TV series of the 1970s based around him fondly. But when another film with a supposedly huge budget (often mostly channeled into other areas, and little of it on screen) gets rolled out, nobody gets excited.
And there's a wider problem. Every time somebody spends millions making yet another movie about the hairy hero, it's money that could have been spent making something original, whether a new story or simply revitalizing one of the lesser-known heroes of Chinese folklore. Out of the vast range of Chinese stories, we see a few of them overused again and again.
For a country supposedly trying to revitalize its traditional culture after decades of destruction and neglect, the "Four Great Novels" - Journey to the West, Romance of the Three Kingdoms, Dream of the Red Chamber, and Water Marginare a nice start.
But they're a very narrow pillar to balance a whole country's cultural revival on, especially given how vast China's literary and mythological history is.
Even if we look only for characters who have their own cycle of stories, what about the lovably roguish "Lazy Dragon," another Ming hero who steals from the rich - mostly for himself? The "crazy monk" Ji Gong has a series of Hong Kong films from the 1970s about him, and numerous Taiwanese TV series, but only two fairly mediocre mainland movies from 2010. What about an adaptation of Barry Hughart's wonderful Bridge of Birds, a proven hit in the West in book form, that draws on a massive variety of Chinese legends? And while a film of the "Rabbit God," a gay deity, might be a little hard for censors to chew on, it would show a side of Chinese life and traditional culture often overlooked.
Hong Kong and Taiwan have been far ahead of the mainland in creatively using old heroes, as has the huge explosion in online fantasy novels, pointing to what may be one of the problems; in Chinese film-making, "safe" generally overrides "interesting." Maybe the authorities should pass a resolution to mandate creativity; no studio can remake any of the "Four Great Novels" until they've made the effort to revitalize a lesser-known work.