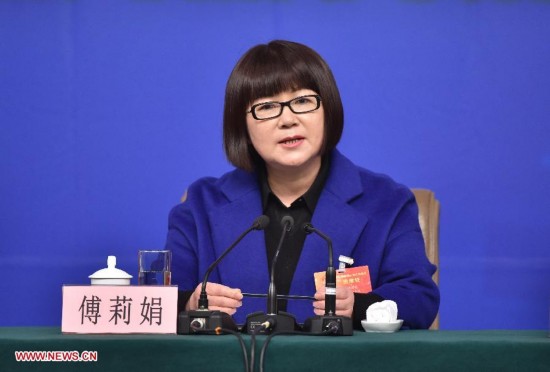 Fu Lijuan, a deputy to China's 12th National People's Congress (NPC), answers questions during a press conference for the third session of the 12th NPC on gender equality in Beijing, capital of China, March 7, 2015. (Xinhua/Li Xin)
BEIJING, March 7 -- Chinese female lawmakers called Saturday for more help for women to defend themselves against domestic violence.
China needs to introduce a law covering domestic violence as quickly as possible, so as to protect more women from abuse at home, said Fu Lijuan, a deputy to the National People's Congress (NPC) who is from the Hunan provincial justice department.
Fu made the remarks at a press conference on "gender equality and women's development" held on the sidelines of the annual parliamentary session, which was also attended by four female deputies from local governments, a company and a public welfare foundation.
Domestic violence has long remained in the shadows in China, where the culture holds that family conflicts are embarrassing private matters. Only in recent years have the Chinese people begun to examine the issue.
A spokesperson with the NPC said Wednesday that China's first bill against domestic violence is likely to be put for the first reading in August.
Discrimination against women is still common in news reports and movies, Fu said, in response to a reporter's question on how women were portrayed in the Spring Festival gala, the annual Chinese TV institution. "We hope society will show more care for women, respect women and foster a favorable environment for women's development," she added.
The deputies called for more support for women in job-hunting and starting businesses.
NPC deputy Wei Xuanjun urged women to use the law to defend themselves when facing discrimination in employment, while Dong Mingzhu, a well-known entrepreneur, said women should not be afraid of flaunting their ability at work.
【1】
【2】