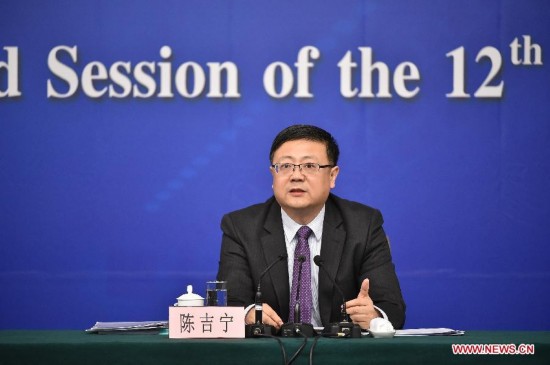 China's Minister of Environmental Protection Chen Jining gives a press conference for the third session of the 12th National People's Congress (NPC), on environmental protection in Beijing, capital of China, March 7, 2015. (Xinhua/Li Ran)
BEIJING, March 7 -- China needs to make "extra efforts" to battle the grave air pollution that has raised public concern, the newly appointed Environmental Protection Minister said Saturday.
More than 80 percent of about 300 cities failed to meet the official standard of air quality last year, with smog frequently hitting the Yangtze River and Pearl River deltas as well as the Beijing-Tianjin-Hebei region, said minister Chen Jining, an environmental scientist and former president of Tsinghua University.
No country in the world is making such great efforts as China to combat air pollution, he told a press conference.
The government would strengthen the implementation of the revised environmental protection law and raise the capacity of pollution control, he said.
The government would also ensure information transparency and protect the public's right to know, participate in and supervise the fight against air pollution.