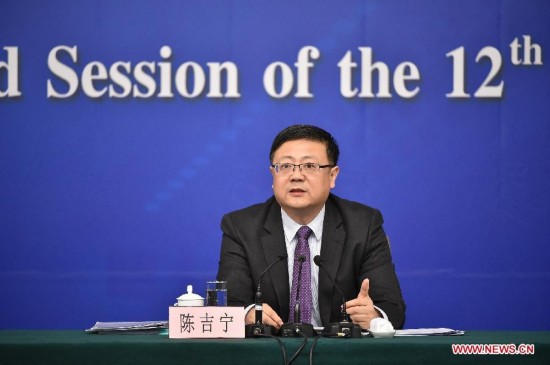 China's Minister of Environmental Protection Chen Jining gives a press conference for the third session of the 12th National People's Congress (NPC), on environmental protection in Beijing, capital of China, March 7, 2015. (Xinhua/Li Ran)
BEIJING, March 7 -- China's newly appointed environment chief said Saturday that the world's second largest economy is faced with the unprecedented conflict between environmental protection and development in human history.
Environmental Protection Minister Chen Jining made the remarks at a press conference on the sidelines of the ongoing annual session of the National People's Congress, China's top legislature.
"China's environmental problem is still severe," he said, citing woes in poor environmental quality, grave ecological damage and high environmental risks that come with unreasonable industrial layout.
The minister said that China needs to do more to cut pollution but also stressed that environment protection is a common issue that every other country has to face.