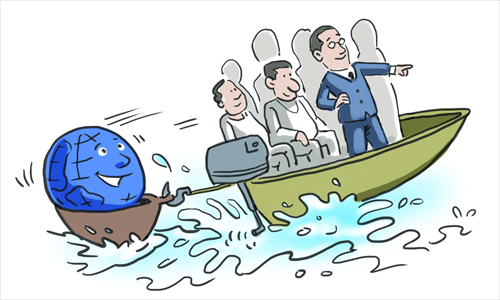 Illustration: Liu Rui/GT
China started 2014 with some concern. Critics charged China with either being a bully or being difficult; the former extends to the island disputes in the South China Sea and the latter to the spat with Japan over the much contested islands in the East China Sea.
By the end of November, China has shifted the spotlight, and is now seen as a key and critical player in the Asia-Pacific region. Its recent agreement on carbon emissions with the US shows that China is able to work with the US to combat global problems, earning China a world first.
It is now seen as exercising a "new" global leadership, wooing support with its recent new initiatives. That China's new initiatives are seen as attempts to help revive the global economy, rather than a mere grab for power, is significant.
Chinese leaders are now feted around the world. Europe sees China as the key to enabling its continuing wealth and growth, and Africa sees China as a key and strategic partner in business and infrastructural development.
Elsewhere, China is a wow factor. From Latin America to the South Pacific, China is seen as a major economic player and friend.
Russia is now tilting toward China, establishing new energy, transport and maritime initiatives. Even Japan has embraced a sort of peaceful détente recently after a prolonged period of increased tensions.
Indeed, China is seen as "walking the talk," putting real money in its many new initiatives. It established with Russia, Brazil, India and South Africa the New Development Bank. And with 20 other countries, it put in $50 billion to establish a new Asian Infrastructure Investment Bank to fund infrastructural development within the region.
The new Silk Road, to which China is contributing well over $40 billion, and the 21st Century Maritime Silk Road seeks to integrate both land and ocean-based trade in Asia, aimed at deepening trade, financial and other economic linkages.
On the trade front, China has relaunched the Free Trade Area of the Asia-Pacific, which can be seen as an alternative to the US-led Trans-Pacific Partnership, from which China is excluded. China is actively promoting the Regional Comprehensive Economic Partnership, aiming to reduce trade barriers across Asia.
Politically, China's new ventures also seek to restructure and realign current economic and political power internationally. This is particularly true for the international financial architecture, where China and other developing countries have sought more influence and voting power, but have been largely ignored.
China's economic leadership is also a much needed dose for the world economy. There is a clear demand for greater infrastructural development, and funds are needed. In Asia alone, it is estimated that about $8 trillion will be needed, and China's kick-in can only assist this quest for greater development.
Critics have, however, argued that these new Chinese projects will weaken global governance, as the new institutions might be more lax and less stringent in their conditions as well as in monitoring governance mechanisms.
The US is obviously concerned, and fears that its global leadership is under threat. Its allies have also mainly toed the line, and yet the smart money should be on a sign-in to China's new initiatives.
To cite the cliché, it's best to keep your enemies close, and the best way to influence these new institutions is to work from within its tent.
Seeking to block China's new competitive global institutions is not only tantamount to being anti-competition, but could also backfire, as millions of Asians are potentially affected. US-led intransigence may even be seen as petty and hypocritical.
China's new economic diplomacy has been strategic, and while some of these new initiatives may not succeed, it has won China much praise and friends.
China's rise is significant and can contribute significantly to global economic well-being, provided its leaders continue to emphasize win-win investments in infrastructure, public health, cleaner environment and energy, education and other international concerns.
China is now seen as a responsible and vital economic player attempting to create a new global economic revolution. Indeed, China may be on the brink of a new global statesmanship.
The author is an associate professor at Murdoch University. He is a fellow at the Asian Research Institute and teaches both Chinese and international business at Murdoch Business School. [email protected]