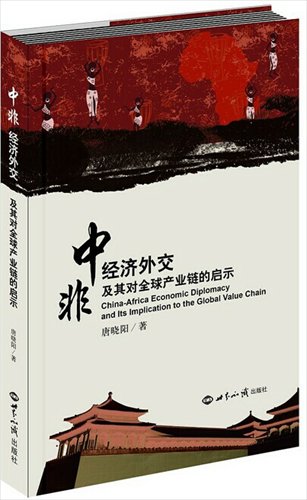 Tang Xiaoyang, China-Africa Economic Diplomacy and Its Implication to the Global Value Chain, World Affairs Press, November 2014
Fourteen years ago, The Economist ran a cover story titled "Africa: The Hopeless Continent." For centuries, especially in recent decades, this land has been marginalized by the great waves of globalization and the information revolution. Inflicted by long-term poverty and turbulence, the continent, especially sub-Saharan Africa, seemed to be lost in finding its position in the international community.
But 13 years later, the same journal ran another story, calling Africa "a hopeful continent." It seems that the world has regained its focus on this ancient land.
Both Chinese President Xi Jinpingand Premier Li Keqianghave paid substantial visits to African countries since they assumed office.
Meanwhile, the White House has suddenly shown a keen interest in Africa by holding US-Africa Leaders Summit in August, the first such event of its kind.
Africa's rise is part of the rise of emerging economies, in which China has made an exceptional contribution.
China-Africa relations, after some dramatic changes in the past decade, need to be reoriented, with a key question that must be answered: What is the fundamental force that keeps pushing both sides drawing closer?
Tang Xiaoyang, assistant professor at the Department of International Relations, Tsinghua University, and also a resident scholar at the Carnegie-Tsinghua Center for Global Policy, believes China is exercising "economic diplomacy" in Africa. His new book China-Africa Economic Diplomacy and Its Implication to the Global Value Chain, has expounded his ideas on this issue.
A competition between rich countries has just begun on the continent. Addressing over 50 African leaders in the August summit, US President Barack Obama said Africa "happens to be one of the continents where America is most popular and people feel a real affinity for our way of life." It was a rare flattering from the superpower to Africa, although the most powerful man gave no African leaders one-on-one meetings.
As a continent endowed with abundant natural and human resources, Africa, although still full of uncertainties and risks, unintentionally turns out highly complementary with China's development. China's proactive moves, to some extent, have drawn the attention of other industrialized countries like the US, which is reluctant to allow Beijing to take the upper hand on this promising continent.
However, it is a "natural process," as Tang argues, that China's economic presence is growing much stronger in Africa. "China's market-orientation reform and economic boost will unavoidably influence other regions," Tang said. "What Africa has matches what China needs, and vice versa."
Thanks to powerful Western media publicity, China has fallen into some controversies in Africa. Its growing economic presence has been depicted as so-called exploitation and even colonization
In his new book, Tang highlights "complementarity" and "interconnection" as the new characteristics of China-Africa relations.
Despite an academic book title, Tang is not a pedant. In fact, thanks to years of field research in Africa, he has had extensive experience on Africa and gathered plenty of first-hand information. Using a lot of examples and case studies, Tang has made his book much more readable than many others of its kind.
Trying to avoid parroting the official rhetoric about China-Africa relations, Tang's vision has gone beyond "win-win relations."
He uses an entire chapter to expound on China's current predicament in Africa, focusing on three aspects: industrial relations between Chinese management and African workers, environmental protection and social accountability, and corruption.
As Tang argues, "China and Africa are able to establish an economic relationship based on equality and mutual respect," but "such a pattern is not always conducive to the fulfillment of win-win." Great expectations there should be, but Tang's words remind us that given the fact China and Africa have widely different cultural backgrounds and levels of social management, reciprocity is a great target, but never an easy one.
(For the latest China news, please follow @PDChina on Twitter at http://www.twitter.com/PDChina and @PeoplesDaily on Facebook at http://www.facebook.com/PeoplesDaily)