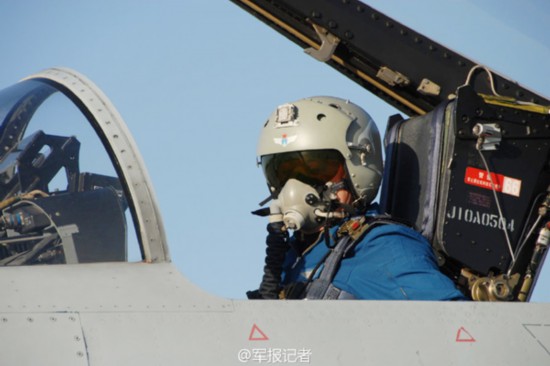 A pilot sits in his jet fighter's cockpit as he prepares to participate in the "Gold Helmet" air combat contest of the Chinese People's Liberation Army (PLA). The event kicked off in early September in the Gobi desert in Northwest China. (Photo from weibo account of the PLA Daily)
The Chinese air force is strengthening pilots' combat readiness by staging an increasing number of drills based on realistic training scenarios.
In the past two weeks, 170 elite aviators from 19 air brigades and regiments of the People's Liberation Army air force took part in a drill over an unidentified desert in northwestern China.
This year's event, the fourth to be staged, was the largest aerial combat drill in the history of the PLA air force and featured the highest level of Chinese fighter jet pilots, the air force said.
Pilots selected to take part were faced with one-on-one free combat and dual confrontation exercises. Competitors in each session were drawn randomly.
"Compared with previous drills, more than half of the participants this year were new to the event and the first exercise they faced was dual confrontation," said Senior Colonel Yu Hejie, deputy head of the PLA air force's training department.
"Such an arrangement was made because we wanted to teach our young men the importance of team spirit."
Wang Ya'nan, deputy editor-in-chief of Aerospace Knowledge magazine, said air combat in modern warfare depends more on teamwork rather than individual capability.
"Many air heroes emerged in World War II, but air forces globally no longer produced ace pilots after the Vietnam War because such pilots today cannot win in aerial combat situations without collaboration with others."
In the drill, pilots adopted a wide range of sophisticated maneuvers used in real combat situations in the hope of defeating rivals.
Their actions were recorded to enable judges to analyze real-time data and decide which side had won, according to experts with knowledge of the event.
In the past, the PLA air force trained its pilots in drills using preplanned scenarios, but critics said these were unrealistic and far removed from real combat situations.
The air force has conducted annual drills since 2011 for top-tier fighter jet pilots. Winners are given a special helmet, known as the Golden Flight Helmet, and allowed to paint an eagle's head on the vertical stabilizer of their aircraft.
Last year, 128 pilots took part, and five of them won the Golden Flight Helmet.
Jiang Jiaji, a squadron commander with the Chengdu Military Command who won Golden Flight Helmets in 2011 and 2012, said free combat is the toughest test for fighter jet pilots.
"For instance, even if two competing aircraft are 10 km from each other, their pilots have only 10 seconds to decide what action to take and also have to keep a close eye on flight data and enemy information. So taking part in such exercises can substantially enhance a pilot's capability and skills."
The air force joined hands with the PLA navy in August to conduct the first free-combat exercise between their airmen.