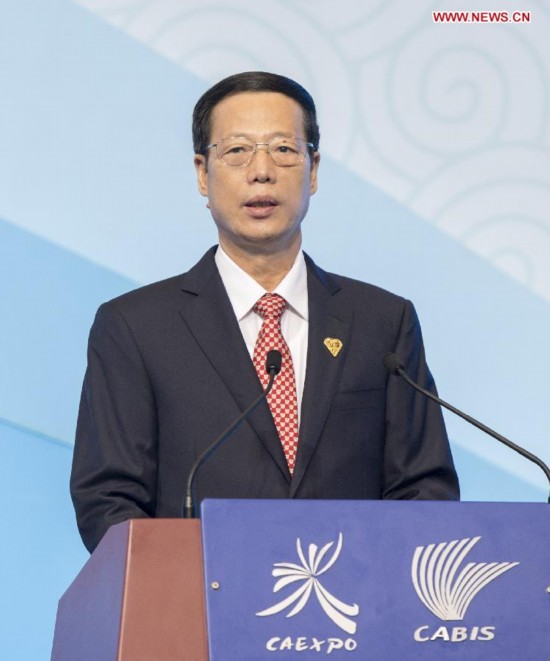 Chinese Vice Premier Zhang Gaoli delivers a keynote speech during the opening ceremony of the 11th China-ASEAN Expo, also the 11th China-ASEAN Business and Investment Summit, in Nanning, capital of south China's Guangxi Zhuang Autonomous Region, Sept. 16, 2014. (Xinhua/Wang Ye)
NANNING, Sept. 16 (Xinhua) -- China looks forward to an upgraded China-ASEAN Free Trade Area (CAFTA) and vows efforts to improve its quality and performance, Chinese Vice Premier Zhang Gaoli said on Tuesday.
Zhang made the comments while addressing the 11th China-ASEAN Expo, which started on Tuesday in Nanning in south China's Guangxi Zhuang Autonomous Region.
He said he expects efforts to promote business exchanges and lay down a foundation for the Regional Comprehensive Economic Partnership (RCEP) and other regional free trade agreements.
"We welcome the official launch of the negotiation between the two sides on upgrading CAFTA," Zhang said. He said he hopes the working plan for the next stage will be determined as soon as possible.
"We should open the market wider, reduce tariffs, and carry out a new round of negotiation on service trade commitments," he said.
He also proposed cooperation agreements on small and medium-sized enterprises, energy, environment and sustainable development, as well as on deepening economic, trade and investment cooperation.
China aims to elevate bilateral trade with ASEAN to 500 billion U.S. dollars by 2015 and one trillion U.S. dollars by 2020.
Zhang said China encourages domestic companies to invest in ASEAN countries and welcomes companies from ASEAN to set up industrial parks in China.
China is also willing to discuss with ASEAN countries about establishing cross-border economic cooperation zones in border areas to make border areas a bond that integrates the interests of the two sides, Zhang added.
China is ASEAN's largest trading partner, while ASEAN ranks as China's third-largest trading partner. Bilateral trade between China and ASEAN increased 10.9 percent year on year to 443.61 billion U.S. dollars in 2013, around 5.7 times that of 2003.
【1】
【2】
【3】
【4】