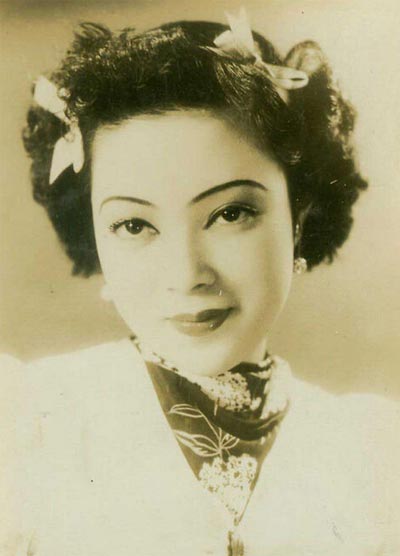 Japanese actress and singer Yoshiko Yamaguchi, also known by her Chinese name Li Xianglan, died in Tokyo on Sept 7. She was 94. (File photo)
Japanese actress and singer Yoshiko Yamaguchi, who was also widely known in China by her Chinese name, Li Xianglan, died of heart failure at age 94 on Sept 7.
Born to Japanese parents in northern Chinaon Feb 12, 1920, Yamaguchi was adopted by a Chinese friend of her father and was renamed "Xianglan," or "Fragrant Orchid", when she was 13.
In 1933, Li was diagnosed with lung-related diseases and studied soprano singing as a way of rehabilitative therapy. Her music career began when her singing talents were discovered by a local radio station.
In 1942, Li's move to Shanghai kick started her career. The release of "Ye Lai Xiang", one of her best known songs, made her a household name in China. She joined Zhou Xuan, Bai Guang, Zhang Lu and Wu Yingyin as one of the "Five Great Songstresses in the bund of Shanghai."
Li also starred in Chinese films. In the movie Song of the White Orchid, she played a young Chinese woman who falls in love with a Japanese man after her family is killed by the Japanese.
Chinese authorities arrested Li after the war and accused her of being a traitor, but released her after her Japanese origin was proved by a friend. She publically apologized for her duplicity in nationality and returned to Japan.
After the war, Li starred in two Hollywoodfilms and Broadway shows during the 1960s. At home, she appeared in Akira Kurosawa's Scandal, Seijun Suzuki's Escape at Dawnand other well-received films.
The story of her dramatic life was made into dramas and musicals that are performed even today. Her 1987 autobiography Half My Life as Rikoran(the Japanese pronunciation of Li Xianglan), was a bestseller.
Related: Actress stuck in nations' conflict
【1】
【2】
【3】
【4】
【5】
【6】
【7】