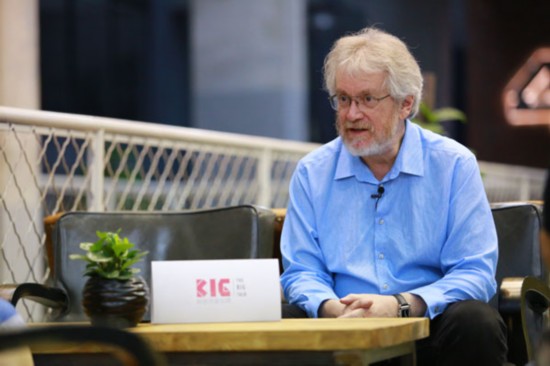 Alex Pentland, MIT Media Lab Professor. (Source: China.org.cn)
Little known outside the realm of crowd science, MIT Media Lab Professor Alex Pentland, dubbed the "father of wearables" and one of the world's seven most powerful data scientists, has outlined his vision for big data and his take on Baidu's big data strategy, China's largest search engine, in a wide-raging interview with China.org.cn.
"The world is bigger than China, so Baidu has come to grips with that at some point," he said. "If you look at where its innovation comes from, it comes from all over the world."
"So that's part of Baidu's decision to be part of the innovation of the whole world, not just China's innovation," the professor said.
Impressive with Baidu's success in predicting the outcomes of the World Cup, Pentland described its prediction product as a result of deep learning techniques.
"We are getting much better at doing that sort of prediction. Some deep learning techniques are genuinely better than AI machines used to be, and may better than humans in some ways," he said.
Baidu's World Cup prediction service outperformed its major competitors, including Microsoft, Google and Golden Sachs, by accurately forecasting the winners of 58.3 percent of the games, compared with runner-up Microsoft Bing's 56.2 percent.
Deep learning is one of the directions that Baidu is currently working towards. In January 2013, Baidu's founder and CEO Robin Li announced the establishment of a research lab dedicated to "deep learning" -- an emerging computer science field that seeks to mimic the human brain with hardware and software.
If Baidu's success in predicting the outcomes of World Cup matches has demonstrated only a tip of its ambition in big data, its increasing presence in a host of data-related industries has sent a strong signal: The era of big data has come.
Baidu has announced plans to roll out a range of products and services based on big data analysis, in areas such as disease prevention, real estate, recuitment and finance.
Pentland said this means Baidu has found many good ways to morph data into useful applications or products.
The firm has teamed up with the Chinese Center for Disease Control and Prevention to use big data to forecast flu outbreaks. The other splash that Baidu made recently was its partnership with the UN to build a lab that aims to use big data technology to solve global issues like environmental protection and disaster relief.
Commenting on Baidu's position as a leading search engine in the world's most populous nation, Pentland said, "Baidu has strong technologies and a strong position, making it one of the major companies in the world in this area."
He also added that Baidu should have good choice in the future about how it continues to grow and develop.