LGBT rights activists expect case to change public view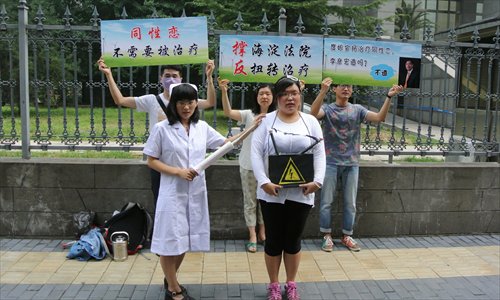 LGBT rights campaigners hold placards with slogans such as "Homosexuals don't need treatment" outside the Haidian court in Beijing on Thursday. (Photo: Li Hao/GT)
A local court in Beijing heard the first case against "gay conversion therapy" on Thursday, which LGBT rights activists believe could become a landmark case that may lead to recognition of homosexuality as normal and reduce public prejudice.
The court of Haidian district heard the lawsuit of Xiao Zhen (pseudonym), a gay man, against a Chongqing-based psychological counseling center named Xinyu Piaoxiang that offered conversion treatment involving electro-shock therapy. He also sued Baidu, China's largest search engine, for posting advertisements for the center.
The hearing was scheduled to run from 9:30 am to 11:30 am, but the verification of evidence prolonged the process until around 2 pm. "I was asked to recount the treatment at the court and that gave me goose bumps. I didn't want to recall that therapy, but the lawyers of the defendants obviously couldn't get my feelings," Xiao Zhen told reporters outside the court.
Xiao Zhen, 30, came out of the closet in 2010. In the face of pressure from his parents, he began to look for "help" in 2013. Learning that homosexuality could be "curable," he searched Baidu, which showed the electro-shock treatment at Xinyu Piaoxiang at the top of search results, according to Xiao Zhen.
He spent 500 yuan ($80) on the treatment. As he fell into hypnosis, he was asked to have sexual thoughts involving men when the psychiatrist prodded his arm with electric shock. "The psychiatrist told me the therapy would take five courses, each including six treatments. And that means three to four periods of shock during each treatment. I thought I would go insane after all that," Xiao Zhen told the Global Times. He gave up after just one treatment.
Li Duijun, Xiao Zhen's lawyer, told the Global Times that Xiao Zhen stood a big chance of victory based on presented evidence that could prove the counseling center was unlicensed for psychological treatment.
"It is also odd that the so-called psychiatrist held a fake qualification that cannot be verified online. He claimed to be a 'senior' psychiatrist, when the national qualification put them at level one, two and three. He also told the judge at the court that he paid 3,800 yuan to 'some' institute in Beijing for his qualification," Li said, adding that the court is expected to give a final ruling before November.
Huang Yizhi, a bystander at the court and also a public interest lawyer, told reporters that Baidu had insisted that the Xinyu Piaoxiang website appeared merely as a search result instead of as an advertisement.
Jiang Kaicheng, the director of Xinyu Piaoxiang center, and representatives of Baidu left the court without responding to media inquiries after the hearing on Thursday.
Before the hearing started, three activists from the Beijing LGBT Center lined up in front of the court with banners that read "Support Haidian Court, say no to conversion therapy!"
The court's security showed up later, which halted the protest.
But it couldn't stop the enthusiasm and hope among LGBT rights campaigners who saw the case as a "milestone" that could further promote LGBT rights in China.
"It's the first case on conversion therapy in China and it will naturally bring wide attention to homosexuality," Xiao Tie (pseudonym), director of the Beijing LGBT Center, told the Global Times.
Xiao Tie said that many gay men and women chose conversion therapy, which often includes conversation, hypnosis and electro-shock, but most of them did so because of the pressure from their family and public discrimination.
There is believed to be zero successful cases so far, but some people would lie about their "successful" conversion to end the painful process, she added. Earlier research in Western countries claimed that the odds of "curing" homosexuality is near zero.
Although conversion therapy is illegal in many Western countries, there is so far no law banning such treatment in China. An online search of homosexuality treatment could still yield a few clinics in several cities that claimed to be capable of "curing" homosexuality. Q&As about the treatment abound online.
The case is expected to make a difference in China's official clinical guide for mental disorder diagnosis and help promote the depathologization of homosexuality in China, according to campaigners.
The third version of the Chinese Classification of Mental Disorders (CCMD-3) in 2001 removed homosexuality and bisexuality from the list of disorders, following the lead of the 1980 version of the US Diagnostic and Statistical Manual of Mental Disorders. However, the CCMD-3 still contained a case of "ego-dystonic sexual orientation," meaning someone who has a sexual orientation or an attraction that conflicts with one's desired image, which was deemed as one last obstacle before a total depathologization of homosexuality.