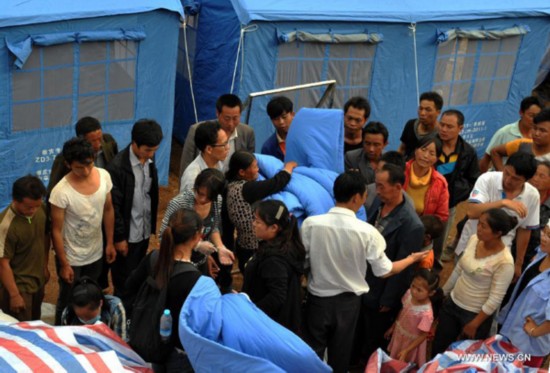 Members of civil administration department deliver quilts to the affected residents after an earthquake in Longtoushan township of Ludian county, southwest China's Yunnan Province, Aug. 4, 2014. At least 398 people have been killed after a 6.5-magnitude earthquake rattled the province Sunday afternoon. (Xinhua/Chen Haining)
LUDIAN, Yunnan, Aug. 4 (Xinhua) -- Rescuers and medics are racing against time to save lives following a 6.5-magnitude earthquake in southwest China's Yunnan Province that left at least 398 people dead.
As of 2 p.m. on Monday, the strong quake had affected 1.08 million people in Zhaotong City and Qujing City, injured 1,801 and necessitated the emergency evacuation of about 230,000, according to the Yunnan Civil Affairs Department.
Nearly 80,000 rooms of 25,500 households collapsed in the quake and 124,000 rooms of 39,200 households were seriously damaged, the department said.
The deaths include 319 in Ludian County, 66 in Qiaojia County, one in Zhaoyang District and 12 in Huize County. Three are missing in Qiaojia.
RESCUE OPERATION
The quake struck at 4:30 p.m. Sunday (Beijing Time) with a depth of 12 km. The epicenter is in Longtoushan Township, Ludian County.
Rescuers dug out with their hands a five-year-old boy buried in debris on Monday morning in a village in Longtoushan Township, one of the worst-hit areas. The child had injuries to his legs and received immediate medical treatment.
"We found and successfully rescued a woman and a man, both in their forties in Longtoushan at 9:20 a.m. and 10:25 a.m. on Monday respectively," said Li Jin, a paramilitary officer. Rescuers offered counseling and water to the seriously injured woman and man during the rescue process.
As of 3 p.m. on Monday, firefighters in Yunnan had retrieved 75 trapped residents, including 32 survivors.
Fifty-six medical workers in 12 ambulances from the cities of Yibin and Luzhou in neighboring Sichuan Province have rushed to the quake-hit area.
"We are busy transferring the injured," said Lu Lingjun, a doctor with the First People's Hospital of Yibin City, Sichuan Province.
He has been dedicated to the rescue work since arriving in Longtoushan on Monday morning.
At about 9 a.m., a 13-year-old girl, whose parents died in the quake, was sent to Lu. She was suffering from shock. After three hours treatment, she was in a stable condition.
The 42-year-old Xiao Bing, a rescuer from Luzhou City, arrived at the epicenter after a tough journey of nearly 12 hours. He wants to save more lives within the "golden time."
The 72nd hour following the quake will fall on Wednesday afternoon, marking the end of a period considered the best opportunity for saving lives.
But the reality is cruel. No survivors were found in the six ruins Xiao has searched so far. "As long as there is a glimmer of hope, we will not give up," he vowed.
"The changeful weather and steep valleys are causing great difficulties in the rescue operation," said Zhang Yong, head of the Blue Sky Rescue Team, whose 45 members arrived at Longtoushan on Sunday night.
"There are many volunteer rescuers in the area and professional rescue forces are still needed," added Zhang.
Yunnan has sent more than 11,000 policemen, 3,100 vehicles and 17 sniffer dogs as of 3 p.m. on Monday.
More than 4,000 servicemen and paramilitary reserve forces of the Chengdu Military Area Command have participated in the rescue work.
Another 300 servicemen from the command are on their way to deliver relief materials in 110 vehicles. Over 600 of the command's medical workers are treating the injured. The command has also dispatched six helicopters to the quake zone.
More helicopters are expected to join rescue effort from Tuesday, delivering much-needed relief supplies, according to the earthquake relief headquarters in Ludian.
"Supplies have been transported to the airport in Zhaotong, and we are mulling how to deliver the materials most efficiently," a staff with the headquarters told Xinhua.
【1】
【2】