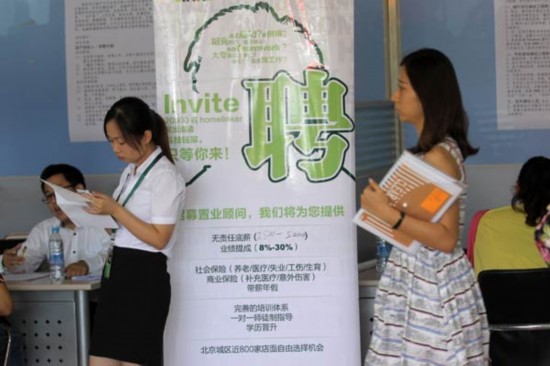 A company promotes itself on a recruitment poster at a job fair in Beijing. A survey found that employers are having difficulty filling such jobs as skilled trades, sales representatives and managers. ZOU HONG/CHINA DAILY
Labor market continues to be affected by skill gaps at manager level, survey finds
Nearly one-quarter of employers in China are experiencing talent shortages, according to an industry survey.
But that's down by 11 percentage points from a year earlier, according to ManpowerGroup Inc.
"Labor for production lines is in short supply, and there is an undersupply of the right talent in all industries on the Chinese mainland. Meanwhile, it's still difficult for inexperienced and unskilled workers to find jobs," said Zhang Jinrong, managingdirector of ManpowerGroup China.
"The pressure to find the right skills in the right place at the right time will increase."
Also, he said, economic, demographic, technological and social forces will continue to evolve, so companies must have a flexible workforce.
The hardest-to-fill job categories are skilled trades (such as electricians or vehicle mechanics), sales representatives and sales managers.
It is the fourth year in a row that sales representatives ranked among the top three.
Talent shortages and skills gaps have varied effects on companies: lower competitiveness, reduced innovation and creativity, and less ability to serve clients, according to the survey.
The survey covered more than 37,000 employers in 42 countries and regions, including 1,642 on the Chinese mainland.
According to the survey, 67 percent of employers in China reporting a talent shortage said it is having a medium- to high-level impact on their ability to meet their clients' needs. Only 10 percent said it had made no difference.
The labor market is likely to remain tight because of skills mismatches, an aging population and a slowing economy in the country.
At the same time, fresh graduates and middle-level managers still face shrinking job prospects, the survey said.
【1】
【2】