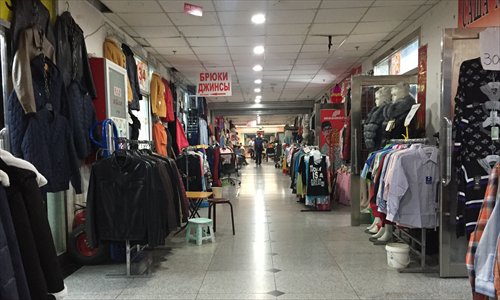 Two shoppers walk through the wholesale market at the Century Square in Manzhouli, North China's Inner Mongolia Autonomous Region. Photo: Chen Qingqing/GT
The economic slowdown in Russia, along with its weakening currency, the ruble, has put a lot of wholesale stores in a Chinese city on the border with Russia out of business, local business owners and experts said Sunday.
Wholesale stores in Manzhouli, North China's Inner Mongolia Autonomous Region were once thriving from strong demand by Russian customers, who would cross the border in search of cheap products such as clothing, hats and shoes.
But since the beginning of 2016, most merchants have been struggling to make a profit and many have closed their shops.
At Century Square, one of the major wholesale markets in the city where many Russian customers frequent, about 80 percent of stores have shut down, Ding Mingfang, who runs a camouflage military uniform store on the second floor, told the Global Times on Sunday.
Ding, originally from East China's Shandong Province, has been selling sweats and hats for nine years to Russian customers, with the help of his wife who is fluent in the language, but things are getting tougher as fewer Russians come to buy his products.
Three years ago, Russian customers used to purchase 10,000 yuan ($1,507) worth of products during one trip, but now they only spend 100 yuan, Ding said, noting his store makes only about 3,000 to 4,000 yuan a month, which can barely support his family.
And that struggle is not just faced by Ding's family, but many others as well.
"Many store owners here have left, as the ruble has depreciated a lot since 2015 while the demand in Russia has been shrinking," he said. "I still have a stockpile worth about 2 million yuan, how could I just shut down this store and leave like the others?"
The struggling businesses were on vivid display at Century Square on a Sunday afternoon, when many store owners were lying on chairs outside of the market.
All of the stores on the third floor have already been closed down, with only a few dust-covered mannequins abandoned in the hallway.
"It has been harder and harder," a merchant surnamed Gao, who runs a sportswear store on the first floor, told the Global Times on Sunday.
He has been considering whether to close his store sooner or later this year like others have. "It's not wholesale anymore, it's more like retail, in other words, sell at the lowest price," he said.
Weak economy, currency
Scenes such as this are likely to have been caused by a weak Russian economy and its falling currency, according to Xiong Aizong, a research fellow with the Institute of World Economics and Politics at the Chinese Academy of Social Sciences.
"Obviously, the Russian economy faces a lot of challenges, especially with sanctions imposed by the West, and the ruble has devalued significantly following its economic slowdown," Xiong told the Global Times.
Though showing signs of improvement, the Russian economy still shrank 0.6 percent in the second quarter this year, Bloomberg reported on Thursday.
And the Russian ruble has fallen more than any other emerging market's currency in 2016 with a depreciation of almost 10 percent, Bloomberg said in January. It has been hovering around 65 against the dollar since April.
"Those factors have a great impact on trade," Xiong said.
Since the ruble's depreciation, Ding said he has laid off two employees and estimates that his losses since 2014 have reached 160,000 yuan. "Now I only send orders to two factories, I used to send [orders] to four," he noted.
Trade volume with Russia shrank about 11 percent from 2015, to 25.51 billion yuan ($3.84 billion), according to the Bureau of Commerce of the Inner Mongolia Autonomous Region.
Over 50 percent of that volume is petty trade in border areas, which declined about 14 percent from 2014, the bureau said in a separate post published in February.
But things might improve soon, the Russian economy is likely to recover with a rebound in oil prices and the currency is also likely to stabilize, according to Xiong.