Energy Cooperation Project in Russia's Arctic Circle under Preparation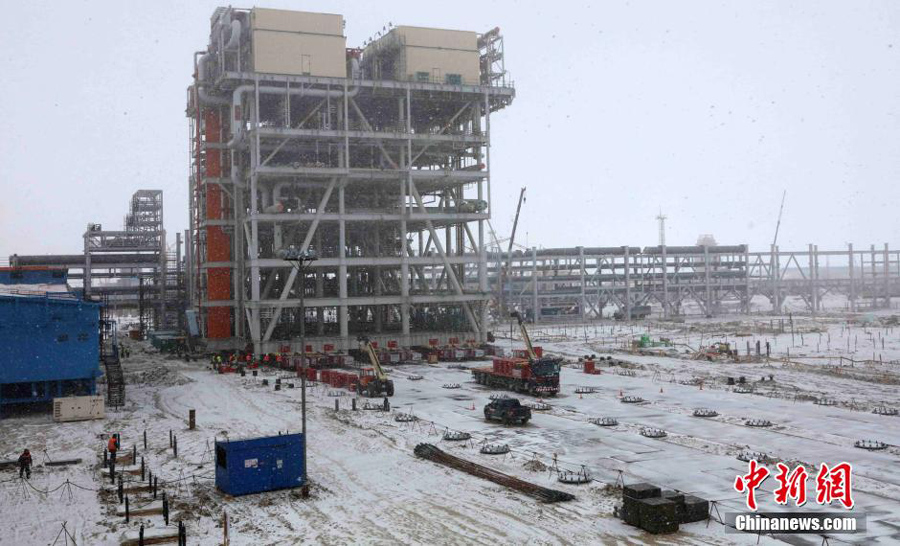 Photo taken on Thursday, May 5, 2016 shows construction work at the liquefied natural gas site in Yamal, Russia. [Photo: chinanews.com]
Work is now underway on a liquefied natural gas plant in the Arctic Circle which is the result of an energy cooperation agreement signed by Russia and China last December.
It's sited on Russia's Yamal Peninsula, which is 2,400 km north of the Russian capital.
It's estimated the natural gas field has reserves of 900 billion cubic metres, with the project expected to generate 16.5 million tons of LNG every year. It's due to come into operation in 2019.
So far, 96 percent of Yamal's output has been booked, mostly by Asia Pacific countries including China.
Benefiting from the extreme cold, the Yamal site is able to spend less on cooling the liquefied natural gas during processing and storage compared with sites in other parts of the world.
The project is owned by Russia, France and China. About one third of the shares are controlled by the China National Petroleum Corporation and Silk Road Fund. It's reported that some Chinese banks are still negotiating to join the project as funders.
【1】
【2】
【3】
【4】
(Editor:Huang Jin,Bianji)
Related reading