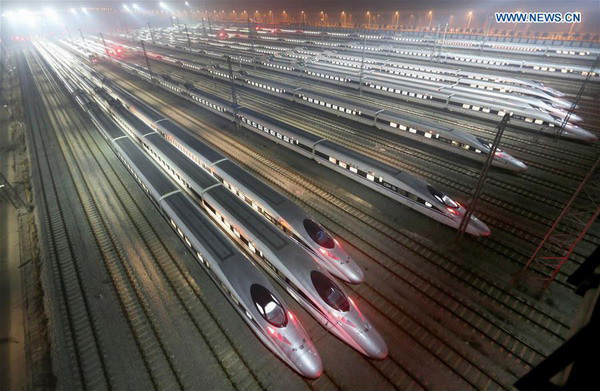 Photo taken on Dec 25, 2012 shows bullet trains which will put into operation on the Beijing-Guangzhou high-speed railway, at a highway-speed train base in Wuhan, capital of Central China's Hubei province. [Photo/Xinhua]
The first regular red-eye bullet train running from Shanghai to Beijing will start operation on May 15, Shanghai railway police authority said on Wednesday, the city's local news paper Xinmin Evening News reported.
Shanghai railway police said that the red-eye bullet train, G8, will leave Shanghai Hongqiao Railway Station at 7 pm and arrive at Beijing South Railway Station at 11:48 pm. Trains running overnight are popularly known as "red-eyes".
It will be the first time that a bullet train running from Shanghai to Beijing will operate after 6 pm. The train will return to Shanghai the next day.
The ticket prices will be 933 yuan ($143.68) and 553 yuan, the same like the daytime ones.
The authorities said more police officers will be onboard on the red-eye bullet train to ensure safety at night.
Another bullet train with sleeping cars, D312, which ran from Shanghai Railway Station to Beijing South Railway Station temporarily during the Spring Festival holiday, will also start regular operation later.
It will leave Shanghai at 7:10 pm and arrive at Beijing at 7:07 am the next day.
China Railway Corp, the country's railroad operator, said earlier this year that it would add "red-eye" bullet trains to its fixed operation schedule to cater for a growing demand.
China has seen a massive increase in train passengers in the past decade. Some 2.5 billion passengers took trains in 2015, up 6.07 percent from a year earlier.