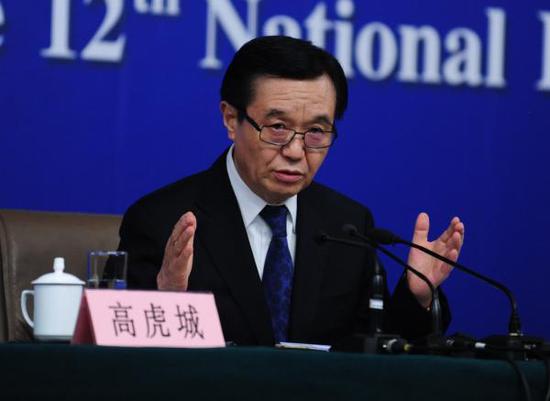 China's Commerce Minister Gao Hucheng [File Photo: sina.com.cn]
China's commerce minister has expressed confidence in the recovery of foreign trade despite the global economic prospects remaining grim this year.
Gao Hucheng notes that the country is still faced with difficulties such as the global economic slowdown.
"Based on the global markets, the difficulties in 2015 will not decrease or be solved this year. Instead, it might get worse. This, in fact, has seriously affected international trade. No one can be immune from it in today's globalized economy. This is a judgment on the situation, and we must take precautions and be fully aware of the difficulties."
Gao also says that though the country has seen declines in foreign trade recently, its share in international trade has climbed.
"According to our preliminary calculation, China's share in international trade increases 1 percent from 12.2 to 13.2 percent, making it the fastest growth year in the past few years."
Official stats show that last month saw China's exports fell 6.6 percent year on year while imports are down 14 percent.
The total value of both exports and imports declined 7 percent for the whole year of last year.
At the same time, the minister refutes sayings of the "large-scale departures of foreign investment" in China.
"If foreign investment does depart from China, then two sets of numbers would show problems. The amount of foreign investment which was introduced earlier would drop. But our level of foreign investment actually increased in 2014 and 2015. The second judgment is to see whether there is a decline in gross. From the period of opening and reforming until now, we absorbed 1.6 trillion U.S. dollars of foreign capital stock."
China attracted some 126 billion U.S. dollars of foreign investment in 2015, a year-on-year increase of 5.6 percent.
Foreign direct investment also increased by 3.2 percent last month.