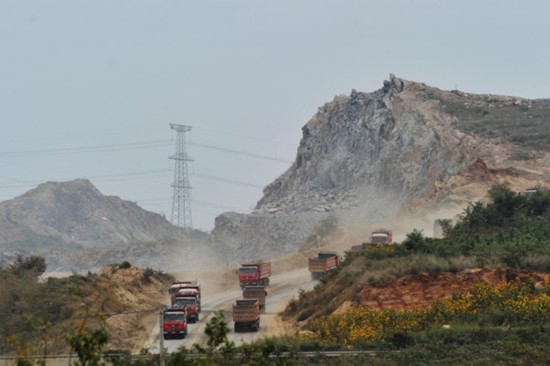 Trucks haul earth for a new island airport off the coast near Dalian, Liaoning province, on Sunday.[Photo by Liu Debin/China Daily]
A senior executive involved with a project to build a new airport on an artificial island has defended the plan after residents and netizens questioned its legality and logic.
Various feasibility studies have been completed for the ongoing construction work, and environmental protection was taken into account, Bai Guangyuan, deputy head of Dalian New Airport Construction Headquarters, told China Daily in an interview.
Annual passenger capacity at Dalian Zhoushuizi International Airport, the largest international airport in Northeast China, reached 14.08 million in 2013. With only one runway, the airport is operating at full capacity.
"As the existing airport is located in the main urban area, there is no room for expansion," Bai said.
Specialists concluded there was no suitable site for a large civilian airport on land within a radius of about 100 km from the main urban areas.
"The current site in Jinzhou Bay in the Bohai Sea is the only option recommended by the experts that has a flat seashore, stable geological structure and favorable meteorological conditions," Bai said.
Work on the project started after Dalian won approval from authorities, including the State Oceanic Administration and the Ministry of Agriculture. The island is being created about 3 km from the coast. It will have an area of more than 21 sq km.
Zhang Qing, a businessman who travels frequently by air, said: "No other city has such a convenient airport as Dalian, which only takes half an hour to get to.
"But to build a new one out at sea will cost much more than building one on land."
However, Bai said the total investment is estimated at 16.5 billion yuan ($2.69 billion), which is less than the cost of land requisition and relocation of original households and companies.
"Two bridges will connect the island to the mainland and water flow around the island will resume. There is no damage to the marine environment."
The artificial island is near China's only national nature reserve for spotted seals. About 1,000 of the seals hibernate in Liaodong Bay from November to April.
Zhang Wei, deputy director of the Dalian Spotted Seal National Nature Reserve administrative bureau, said the project was approved only after detailed assessment.