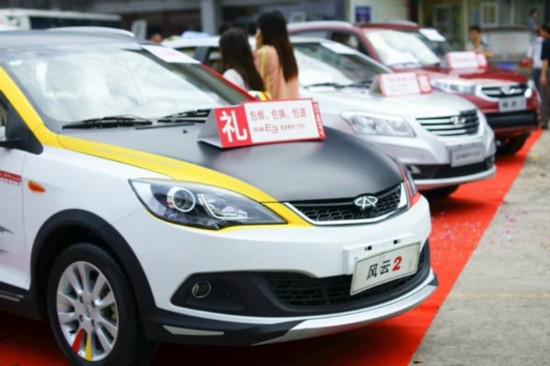 Domestic carmakers face yet another challenge as Sino-foreign joint ventures move into the low-priced segment with entirely new brands. (ZHOU JIANPING/CHINA DAILY)
Share continues to shrink in the fierce low-priced market
As foreign brands build more low-priced models at their local joint ventures, Chinese carmakers are feeling the squeeze.
According to statistics from China Association of Automobile Manufacturers, the 3.63 million passenger cars sold by domestic brands in the first six months of the year represented 37.68 percent of the market, a decline of 3.48 percentage points from the same period last year.
If Chinese-brand SUVs, MPVs and minivans are excluded, their first-half sedan sales were just 1.37 million units, 22.24 percent of total sedan sales.
Compared with the same period last year, their market share in the segment fell by 5.41 percentage points.
In June, domestic-branded sedans had less than 21 percent of the total, a new monthly low in the past five years.
A wide range of affordable models by Sino-foreign joint ventures is a major cause of the shrinking share for domestic brands, experts said.
The majority of domestic-branded products are priced at less than 100,000 yuan ($16,000) and nearly 60 percent are no more than 50,000 yuan, said Zhang Yu, director of industry consulting firm AutoForesight (Shanghai) Co.
"With prices of some models like the VolkswagenJetta and Toyota Corolla Ex now around 60,000 to 70,000 yuan, domestic products have no way to compete with them," Zhang said.
Nissan's local joint venture with Dongfeng Motor Corp recently launched a new model under its local brand Venucia with the startling starting price of 39,900 yuan.
Based on the Nissan March, the Venucia R30 microcar is the cheapest-ever car made by a mainstream Sino-foreign joint venture and mainly competes with the BYDF0, CheryQQ and Chang'an Benben domestic models.
The joint venture only built Nissan-branded models until 2012 when it introduced the new, local Venucia nameplate to tap the entry-level market in China. All products in the Venuica lineup are no more than 100,000 yuan.
According to media reports, Volkswagen also plans to introduce a new nameplate at its joint venture with FAW with a target price of around 50,000 yuan.
Chinese customers still have a big appetite for low-priced vehicles, especially in small cities, said Zhong Shi, an independent auto analyst in Beijing.
The separate brand strategy is good for foreign carmakers because they can enter the low-priced segment without affecting the position of their mainstream models, he said.
【1】
【2】