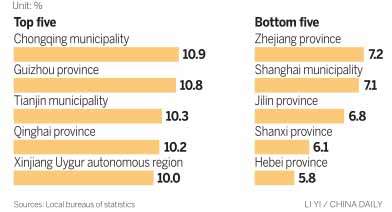 (Photo: China Daily)
BEIJING, July 26 -- The number of regions that delivered double-digit economic growth in the first half of this year plunged, and growth in some regions was dramatically below the year-earlier level, figures from provincial-level governments showed.
The local statistics offer a level of detail and insight into the economy that national figures do not provide.
Of the 27 provinces, municipalities and autonomous regions that have released first-half GDP data so far, only five managed to expand at a double-digit pace. In 2013, 15 out of 31 mainland regions posted growth rates above 10 percent.
Northern industrial hub Tianjin, which grew 12.5 percent in 2013 and led the nation, slowed to 10.6 percent in the first half. Chongqing in southwestern China led the nation with 10.9 percent GDP growth in the first half, but that pace was 1.4 percentage points slower than in 2013.
Some provinces experienced a sharp drop in growth. Hebei province in northern China, where the government is cutting steelmaking capacity, grew 5.8 percent in the first half, compared with 8.2 percent a year earlier. First-quarter growth was just 4.2 percent.
Coal-dependent Shanxi province expanded 6.1 percent in the first half, while it grew 8.9 percent in 2013.
Heilongjiang province in Northeast China, where just one large oilfield contributed more than half of the province's industrial output, was hit hard by decreased crude production. The province grew just 4.1 percent in the first quarter, the lowest level nationwide. It still has not released its first-half data. In 2013, it grew 8 percent.
All these three regions' economies are heavily reliant on natural resources, and their difficulties underscore the "limits of the traditional development path" and the "urgency to find a new growth model", said Xu Fengxian, a regional economics researcher with the Chinese Academy of Social Sciences, the top government think tank.
Their improvements in the second quarter still relied on expanded production and investment, he said.
Twenty-one of the 27 regions that had reported first-half GDP figures as of Friday indicated a pickup in the second quarter, while four regions reported a slowdown-Tianjin, Anhui province, Xinjiang Uygur autonomous region and Jilin province.
"Both the national and provincial figures show a clear pickup, though the provincial ones more obviously so," said Xu Gao, chief economist at Everbright Securities Co.
Local governments have long reported numbers higher than national figures and "provincial governments still have an incentive to inflate the GDP figures", he said.
In response to slower growth, the regional governments are outlining stimulus plans. Hebei will invest 1.2 trillion yuan ($194 billion) in areas including railways, energy and housing, while Heilongjiang will spend more than 300 billion yuan over two years in areas including infrastructure and mining.
But Zhang Zhuoyuan, an economist who specializes in reform, said on Friday he worried that these local moves would only bolster governments' control over resources, a trend that goes against the reform direction laid out by the Third Plenum of the 18th Communist Party of China Central Committee in late 2013.
A separate report by the CASS showed in terms of development prospects, coastal regions such as Jiangsu and Zhejiang provinces still dominate the list. Between 2013 and 2014, Hebei's ranking in the list dropped from 13 to 23, the largest slide among regions. Shanxi and Heilongjiang also saw major declines.