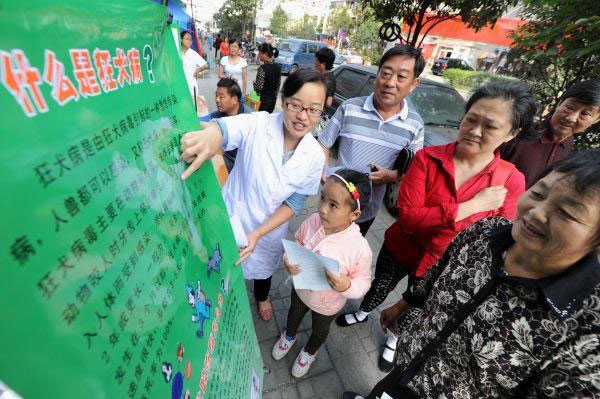 People learn about knowledges related to rabies. [Photo: Xinhua]
Among the 80 million registered dogs in China, less than 20% were vaccinated against rabies, resulting in some 2000 Chinese dying of rabies annually, the Asia Times Online reported on Saturday.
One person dies of rabies every ten minutes in most areas of China, India and other developing countries. Nonetheless, rabies have been controlled through vaccination and strict pet entry rules in most countries, according to the World Health Organization (WHO).
Infection is exposed through a dog or bat bite. The WHO shows that 99% of cases are caused by a dog bite, only in America is the bat bite a main source of infection.
In China, 80% of dogs are unvaccinated, and only 3% in rural areas, which is considerably lower than the minimum levels of effective vaccine coverage of 70%, says Peng Weifen, founder of Beijing International Center for Veterinary Services.
"You should not be afraid of going into China or other rabies epidemic countries. Please remember to take vaccines against rabies before you leave," Peng added.
There is a common misunderstanding that dogs who have rabies are aggressive, with a watering mouth and yellow eyes. In fact, a small puppy not exhibiting any aggressive symptoms may be the source of infection.
As Peng said, when a puppy licks a person's face, mouth, nose or eyes, the infection can pass onto the person.