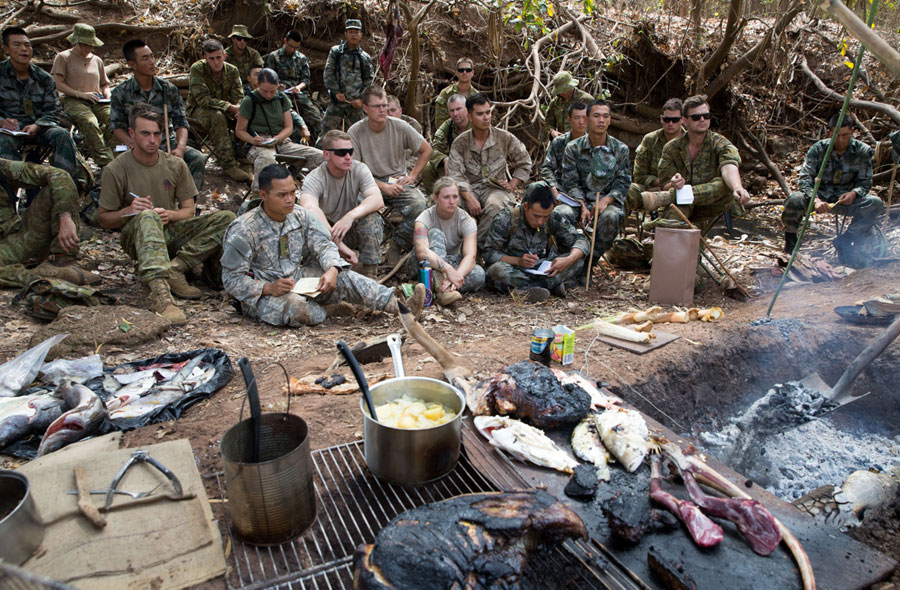 Chinese People's Liberation Army, Australian Army, US Marine Corps and US Army personnel take notes during a cooking lesson as part of the training phase of Exercise Kowari, held in the Daly River region of the Northern Territory in Australia, on September 2, 2016. [Photo: Australian Department of Defence]
For the third time in three years, soldiers from China, Australia and the US have been gathering near Darwin, Australia for Exercise Kowari - a military survival training drill designed to build cooperation and trust between the three countries.
Ten soldiers from each country have taken part in this significant international engagement in a remote area of the harsh Northern Territory Outback.
Participants have been taught basic principles, procedures, techniques and use of equipment that can enhance survival prospects in this testing Australian environment, including how to make fire, build shelters, create tools and navigate by day and night, under the instruction by the Australian Army's survival training experts.
According to the Australian Defence Department, Exercise Kowari 2016 marks an important milestone in defence cooperation among China, Australia and the US.
The exercise, first started in 2014, runs from August 26 to September 9.
【1】
【2】
【3】
【4】
【5】
【6】
【7】
【8】
【9】