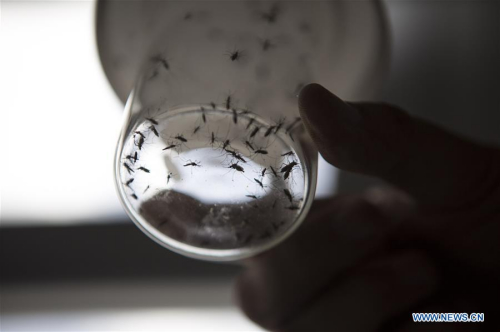 Image taken on Feb. 17, 2016 shows Dr. Juan Garcia, director of the Center for Parasitological Studies and Vectors (CEPAVE) of the Faculty of Natural Sciences of La Plata National University, holding a bottle with Aedes aegypti mosquitoes sheltered for study at one of the Centre laboratories, in La Plata city, Argentina. [Photo: Xinhua/Martin Zabala]
The Hong Kong authorities have reported the city's first Zika virus infection.
The patient was said to be a 38-year-old female who had travelled to a Caribbean island, before complaining of pain in the joints and red eyes.
Leung Ting-hung, head of the Centre for Health Protection.
"Initial investigations show that the patient had traveled to the island of St Barthelemy in the Caribbean Sea from August 6th to the 20th. She remembered that she was bitten by a mosquito."
The woman underwent a blood and urine test at an outpatient clinic at a private hospital on Tuesday.
Test results released on Thursday showed she had Zika virus.
She is being treated under quarantine in a stable condition.
None of her fellow travellers have shown any Zika symptoms.
Doctors say Zika can cause birth defects if mothers become infected during pregnancy.
It is commonly transmitted through a bite from an infected mosquito, and recent reports have confirmed it's also capable of leaping from person to person through sexual transmission.