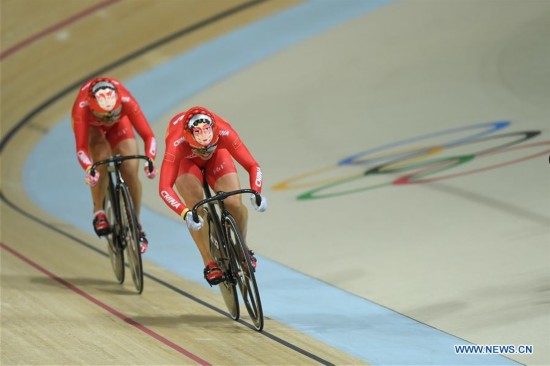 Gong Jinjie (front) and Zhong Tianshi of China compete during the final of women's team sprint cycling track at the 2016 Rio Olympic Games in Rio de Janeiro, Brazil, on Aug. 12, 2016. China won the gold medal. (Xinhua/Li Ga)
China claimed its first cycling Olympic gold after Gong Jinjie and Zhong Tianshi won the women's team sprint in the Rio Olympic Velodrome here on Friday.
The Chinese due beat Daria Shmeleva and Anastasiia Voinova of Russiain the final to take the gold, while the bronze went to Germanywho defeated Australia.
Gong Jinjie and Zhong Tianshi set a new world record of 31.928 seconds in the first round after breaking an Olympic record in the qualifying round.
Four years ago in London, Gong and Guo Shuang picked up a silver medal in the women's cycling team sprint after being relegated from gold for making a lane change in the final.
China won two silvers and one bronze in cycling in 2012 London Olympicsand one bronze in Beijing 2008.
The women's team sprint is a track cycling event contested by teams of two women cyclists. The format consists of two rounds: in the first round, teams compete against the clock to set a qualifying time. The top four teams go through to the final round, where the first and second placed teams compete against each other in the gold medal race-off and the third and fourth teams compete against each other in the bronze medal race-off.
This event was added to the Olympic program in the 2012 London Olympic Games.
【1】
【2】
【3】
【4】