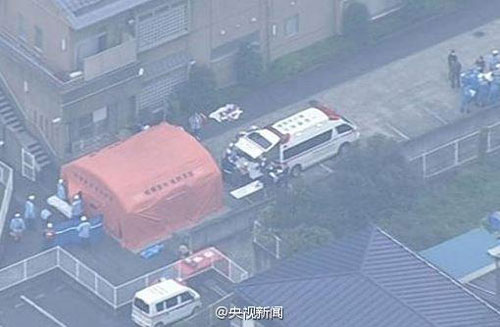 A photo shows the scene of a knife attack in eastern Japan's Kanagawa, on July 26, 2016. [Photo: weibo.com]
Following a fatal stabbing spree carried out by a lone male assailant at a care facility for people with disabilities in Kanagawa Prefecture west of Tokyo in the early hours of Tuesday morning, 19 people have been left killed and almost 30 others injured of which 20 have sustained critical wounds, local police and investigative sources said.
Local police stationed in Kanagawa Prefecture confirmed they had arrested a 26-year-old male, naming him as Satoshi Uematsu, after he turned himself in at 3:00 am local time, shortly after the savage stabbing spree took place.
Local police quoted the suspected assailant as saying "I did it"upon his arrival at Tsukui Police Station, to which a bloodied Uematsu had driven himself after the attack to hand himself in.
Uematsu was also quoted by the police as saying, "It's better that the disabled disappear."
Investigative sources believe that the assailant, who claimed he used to work at the Tsukui Yamayuri-en care facility where he systematically bludgeoned dozens of disabled residents, may be harboring deep resentment for those with disabilities, or for the facility itself where he used to work.
His actual motive, however, is still being investigated, according to local investigators.
Uematsu, who was carrying a bag full of bloodied knives and blades of different sizes, and is said to live not far from the care facility, is also being assessed for mental health issues, sources close to the matter also said Tuesday.
Police were first alerted to the mass killing, following a desperate call from a shaken employee just after 2:30 a.m. who said that a man wielding a knife had just broken into the facility.
On turning himself into the police, Uematsu was arrested on suspicion of attempted murder and unlawful entry to a building, local police sources said.
The residential care facility, the name of which translates in English to Tsukui Lily Garden, is run by a social welfare organization and was initially developed by the local government.
The facility, with its 30,000-square-meter area, can house up to 160 residents and according to local sources as many as 149 residents were on site when the attack happened, many of whom are believed to be in their sixties.
The facility is located some 50 km from central Tokyo in a residential area surrounded by houses and an elementary school.
【1】
【2】
【3】
【4】