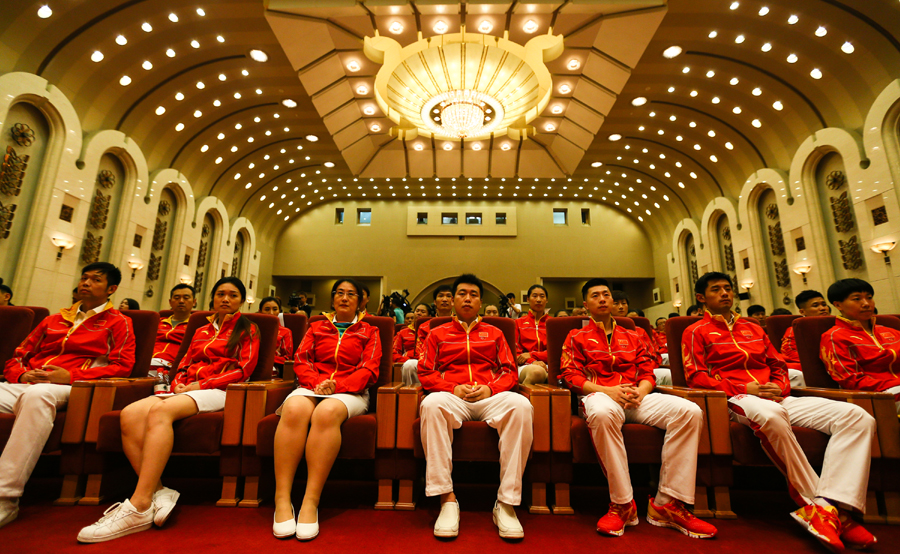 Chinese athletes to participate the 2016 Rio Olympic Games attend the setting up ceremony for the attending Chinese delegation in Beijing's Great Hall of the People on July 18, 2016. [Photo: CRIENGLISH/Li Jin]
China has announced its largest ever Olympic delegation to be sent overseas.
It will send 416 athletes, including 35 Olympic champions, to the upcoming Rio Olympic Games.
160 men's athletes and 256 women will compete, representing China, at the Games starting from August 5.
Among them, 35 are Olympic champions including 27 from London Olympics.
14-year-old swimmer Ai Yanhan, who will compete in the women's freestyle events, is the youngest member of the Chinese contingent, while 38-year-old shooter Chen Ying will be the oldest.
This will be the fourth Olympic trip for the Beijing Olympics shooting champion.
"Every time it's new to me. I have lots of dreams and expectations. That is why we have kept on competing."
China is expecting a haul of gold medals from traditionally strong sports such as table tennis, badminton, gymnastics, weightlifting, shooting and diving.
However, swimming and athletics are attracting just as much attention as China is on the rise in these two sports.
Olympic and world freestyle champion Sun Yang is looking to defend his 1,500m title in Rio, while sharing his limelight is new sensation Ning Zetao who became the first Asian man ever to win the 100m freestyle at the world championships last year.
"I feel I am in good shape now. I've been making final preparations."
China is also hoping to make an impression in track and field events.
Feng Shuyong is head coach of the national athletic team.
"So far, our athletes have been able to rank in the world's top three for events like race-walking, shot put and long jump."
Injuries however, caused several noticeable absences in the roster.
Five-time Olympic gymnastics champion Zou Kai was dropped as he is struggling with recurring injuries, while women's gymnast Yao Jinnan has not recovered from shoulder surgery.
Weighlifter Liao Hui announced his retirement after he suffered a knee injury in training last month.
Chinese sports authorities have made a point of stating their zero tolerance for doping policy.
【1】
【2】
【3】
【4】
【5】
【6】
【7】