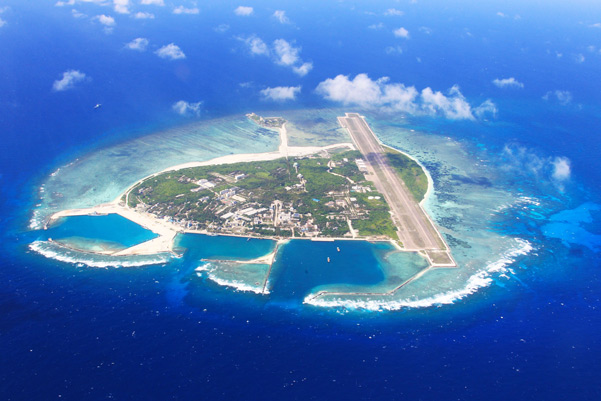 Yongxing Island is home to the government of Sansha, China's southernmost city. [Photo/Xinhua]
Full Text: China Adheres to the Position of Settling Through Negotiation the Relevant Disputes Between China and the Philippines in the South China Sea
The Philippines has repeatedly taken moves that have complicated the maritime disputes in an attempt to "entrench its illegal occupation of some islands and reefs" of the South China Sea, said a whitepaper issued by China on Wednesday.
The whitepaper, released by China's State Council Information Office, accused the Philippines of "having increasingly intensified its infringement of China's maritime and interests".
"The Philippines also has territorial pretensions on China's Huangyan Dao and attempted to occupy it illegally," said the whitepaper, which has elaborated the current situation and China's policy on the South China Sea issue.
The five-chapter whitepaper was released after that the Arbitral Tribunal, appointed by the Permanent Court of Arbitration in The Hague, announced on Tuesday that China has no "historic title" over the South China Sea.
The Philippines' unilateral initiation of arbitration is "an act of bad faith", said the whitepaper.
China maintains that peace and stability in the South China Sea should be jointly upheld by China and ASEAN member states, said the whitepaper.
China's Foreign Ministry said in a statement released on Tuesday that the ruling "is null and void and has no binding force".
Beijing issued two statements immediately after the arbitration ruling was announced. Noting that Chinese activities in the South China Sea date back more than 2,000 years, one statement pointed out that China is the first to have discovered, named, explored and exploited the South China Sea Islands and surrounding waters.
President Xi Jinping said on Tuesday that China is committed to resolving disputes through direct negotiations, but its national sovereignty and maritime interests will not be influenced under any circumstances by the South China Sea ruling.
The South China Sea Islands have been China's territory since ancient times, and China refuses to accept any claims or activities based on the arbitral ruling, Xi said while meeting in Beijing with European Council President Donald Tusk and European Commission President Jean-Claude Juncker.