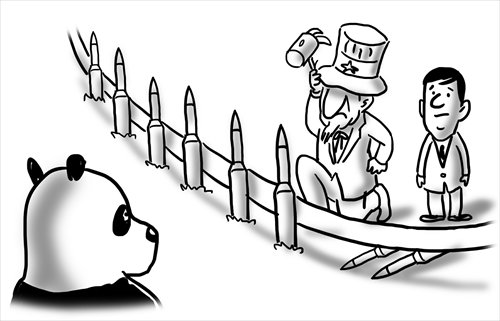 Illustration: Liu Rui/GT
A series of incidents that have happened or are upcoming indicate the deterioration of China's peripheral environment. One of them is the decision taken by the US and South Korea on Friday to deploy the Terminal High-Altitude Area Defense (THAAD) system in South Korea, which has far-reaching influence.
China has long held that the deployment of the THAAD system will severely jeopardize China's security interests and has made clear its firm opposition. This stance was strongly reiterated by Admiral Sun Jianguo, deputy chief of the Joint Staff Department of China's Central Military Commission, at the Shangri-La Dialoguein Singapore in early June. Anyhow, the final decision on THAAD deploymentis a setback for China.
As early as 2013, Washington began to pressure Seoul into joining its anti-missile system. While South Korea has been hesitant to make a decision considering opposition from China and other parties, it was prompted to rush the deployment by North Korea's fourth nuclear test in January.
For Seoul, its peaceful "Sunshine Policy" toward Pyongyang failed since the latter continued with its nuclear development, while Beijing has failed to constrain Pyongyang's nuclear ambitions in a clear-cut and effective manner.
Although Resolution 2270 adopted by the UN Security Council in March imposed the toughest-ever sanctions on North Korea and accordingly China has taken multiple measures, South Korean opinion has already taken shape and imperiled its relations with China. Bilateral ties will undergo further disruption upon the decision to deploy THAAD.
From China's perspective, the Patriot PAC-3 missile defense system already deployed by Seoul is capable of helping it defend itself from Pyongyang's missile threats. In this sense, the US' advancement of THAAD deployment in South Korea actually targets China as well as Russia.
Yet despite China's opposition, South Korea still binds itself closer to the US in terms of security or the US rebalancing strategy to the Asia-Pacific, which mainly targets China. This therefore sets China against South Korea over the security issue and gravely erodes their mutual trust.
Besides, the THAAD deployment decision means another US gain in its rebalance to the region. Behind it stands the US military-industrial complex that persistently promotes arms sales to make huge profits.
North Korea's obstinate nuclear development has considerably unsettled South Korea and enabled the US to advance its rebalancing strategy, to strengthen the US-South Korea alliance and to intensify US-Japan-South Korea trilateral cooperation. This jeopardizes China's security interests.
Under the circumstances, China needs to review its policy on the Korean Peninsula.
China's efforts to safeguard stability in the peninsula have often been offset by Pyongyang's nuclear moves. North Korea is no longer a buffer zone for China, but a source of troubles. It's time to consider whether North Korea is an asset to China or a liability.
The decision on THAAD deployment is a setback for China's peninsula policy, but China should be cautious in considering sanctions on South Korea. There is still some information missing now. For instance, some say that Seoul will limit the detection range of the X-band radar of the THAAD system into no more than the north of the peninsula. China needs to observe calmly and gathers more accurate intelligence.
The US has always pursued absolute security, which usually comes at the cost of other countries' security. It remains the dominant party in its bilateral alliance, as is in THAAD deployment. As the US has deployed anti-missile systems in Japan, the latest decision to deploy THAAD system in South Korea will likely form a US-led regional missile defense network and militarily connect the three allies. This does no good to China.
However, the deployment of the THAAD defense system will stimulate relevant parties to strengthen and develop their strategic forces such as intercontinental ballistic missiles and carriers, so that a chain reaction may be triggered. This is what concerns security in Northeast Asia and China-US relations.
The author is a professor at the Institute of International Studies, Fudan University. [email protected]