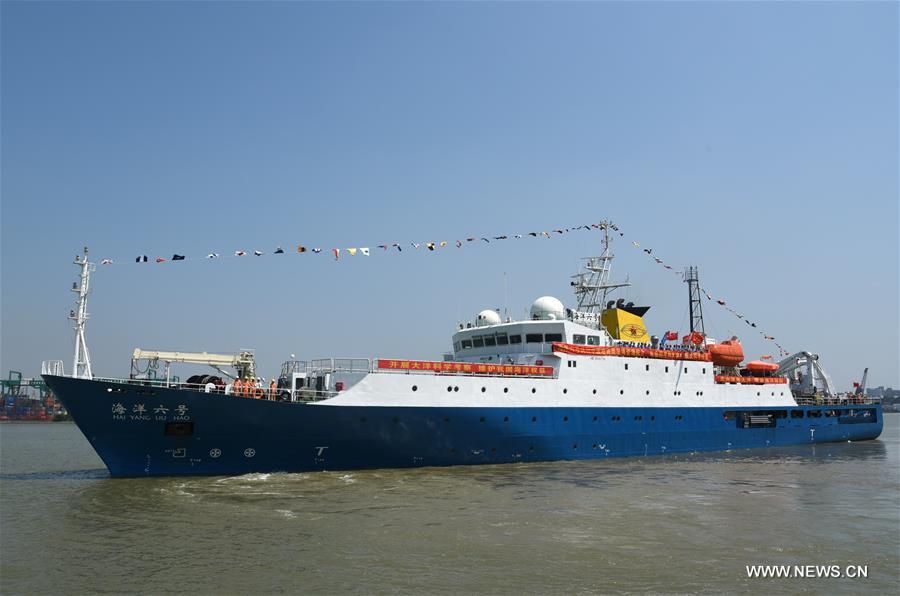 China's self-designed deep-sea exploration vessel "Ocean No.6" sets sail from a port in Guangzhou, capital of south China's Guangdong Province, July 8, 2016. The vessel will spend 282 days conducting deep-sea surveys and a scientific expedition in Antarctica on a nearly 60,000-km voyage. It will return to the port in Guangzhou in April, 2017. (Xinhua/Lu Hanxin)
GUANGZHOU, July 8 -- The Chinese research vessel Haiyang Liuhao, also known as Ocean No. 6, set sail on Friday to the Pacific Ocean and Antarctica for a 60,000-km expedition.
The ship departed from a port in the south Chinese city of Guangzhou, and is expected to return in mid-April 2017.
The expedition will have three tasks. It will serve as a marine resource and carry out environment evaluation in the West Pacific according to a contract with the International Seabed Authority.
It will also perform distribution and comparative research on deep-sea resources in the East Pacific, and carry out comprehensive geological, geophysical and maritime research in and around the Antarctic Peninsula.
He Gaowen, chief scientist on the project, said the expedition will be of strategic importance for China's international seabed resource exploitation, maintain the country's lawful rights in international seabeds and its peaceful use of Antarctica.
Another research vessel, Xuelong (meaning "Snow Dragon"), is set to sail for the Arctic on Monday, Xia Limin, an official with the State Oceanic Administration, announced Friday at a press conference held at the Shanghai-based Polar Research Institute of China.
According to Xia, a total of 128 crew members will be on board for comprehensive research in marine chemistry, ecology, geology, geophysics and sea ice dynamics during the expedition, the seventh by China to the Arctic.