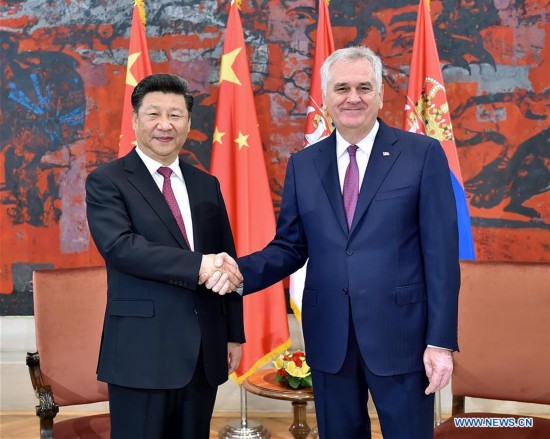 Chinese President Xi Jinping (L) holds talks with Serbian President Tomislav Nikolic in Belgrade, Serbia, June 18, 2016. (Xinhua/Li Tao)
China and Serbia agreed Saturday to upgrade their relations to a comprehensive strategic partnership in a show of their shared commitment to further deepening bilateral cooperation for mutual benefit.
"China and Serbia are all-weather friends and important cooperation partners," Chinese President Xi Jinping, who is here for a state visit, said during talks with his Serbian counterpart, Tomislav Nikolic.
"Our two countries enjoy a profound traditional friendship. Our relations have stood the test of time and history and grown even stronger," Xi added.
Xi attributed the robust momentum of bilateral relations to the time-honored friendship between the two peoples, the mutual understanding and support between the two countries on major issues, and their mutual learning and assistance in the pursuit of development.
Noting that bilateral relations now face new opportunities for development, Xi said China is ready to make joint efforts with Serbia to continue boosting political mutual trust, enhancing mutual understanding, deepening mutually beneficial cooperation, and constantly expanding the platform for bilateral collaboration.
Nikolic, for his part, said that the Serbian people cherish the sincere friendship with the Chinese people, and that the two countries have maintained a high level of mutual trust, carried out extensive and reciprocal cooperation, and shared similar positions on major international issues.
The Serbian people are glad to see the achievements China has made in economic and social development, the improvement of the Chinese people's living standard, and the growing influence of justice-upholding China in international affairs, he said.
Nikolic said he believes that Xi's visit will boost the all-round development of bilateral relations and deepen the all-dimensional cooperation between the two countries.
The two leaders agreed to upgrade the bilateral ties in a bid to inject fresh vigor into the China-Serbia traditional friendship and bring more tangible benefits to the two peoples.
They pledged to maintain high-level contacts and promote exchanges between the two governments, legislative bodies, political parties and armed forces.
They decided to, on the basis of mutual respect, equality and mutual benefits, continue to enhance communication on major international and regional issues and increase coordination within the United Nations and other international organizations.
With an eye to pushing the bilateral cooperation to a new height, the two presidents agreed to focus on key areas and major projects, prioritizing cooperation in infrastructure construction, industrial capacity and agriculture.
The two sides vowed to strengthen exchanges in personnel, culture, education and sports, with China promising to support Serbia in establishing Confucius Institutes and promoting Chinese language teaching in the country.
In addition, the two leaders pledged to jointly promote the China-proposed Belt and Road Initiative, seek synergy between Serbia's national development strategy and the initiative, and align Serbia's development with the cooperation between China and Central and Eastern European countries.
After their talks, Xi and Nikolic inked a joint statement on the establishment of China-Serbia comprehensive strategic partnership.
They witnessed the signing of a series of cooperation deals, covering industrial capacity, finance, infrastructure construction, trade, energy, telecommunications, science, technology, local affairs, culture and tourism.
Nikolic also decorated Xi with the Order of Republic of Serbia to extend gratitude to the Chinese president for his outstanding contributions to advancing the bilateral ties.
"I have been paying close attention to President Xi's visit and the relations between our two countries," said Andrija Maticevic, a 23-year-old student majoring in Chinese studies at the Faculty of Philology, University of Belgrade.
"I chose to study the Chinese language because I have been interested in Chinese culture since my childhood," said Maticevic, who noted that his Chinese major could help him get more opportunities to find a good job.
He also believed the investment from China can help make Serbia develop faster.
The Chinese president arrived in Belgrade on Friday. From Serbia, he will travel to Poland and Uzbekistan for state visits as well as the 16th meeting of the Shanghai Cooperation Organization Council of Heads of State in Tashkent.
【1】
【2】
【3】