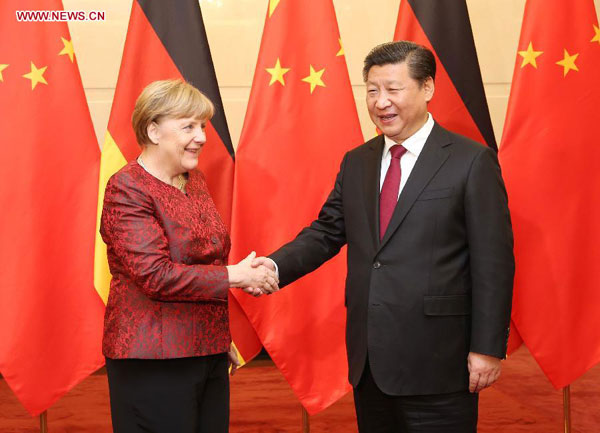 Chinese President Xi Jinping (R) meets with German Chancellor Angela Merkel in Beijing, capital of China, Oct. 29, 2015. [Photo: Xinhua/Yao Dawei]
German Chancellor Angela Merkel is set to pay a 3-day visit to China starting from Sunday.
This will be her 9th visit to China since she took office.
Foreign Ministry spokesperson Hong Lei says the Sino-German relationship has witnessed rapid development with frequent high-level exchanges, "China and Germany are on good terms, and their political mutual trust has continued to deepen. In the first half of this year, German President Joachim Gauck visited China. The two countries also maintain close contact on practical cooperation. Currently the two countries are working to dovetail the plans of Made in China 2025 and German Industry 4.0."
He added that the two countries are maintaining cooperation in global and regional affairs.
During her upcoming visit, Merkel will also co-chair the 4th round of a bilateral intergovernmental consultation with Chinese Premier Li Keqiang.
Hong Lei said this year's consultation will be a good opportunity for China to work with Germany for more progress on pragmatic cooperation at a higher level.
Merkel's upcoming visit this month will take her to Beijing, where she'll meet Chinese President Xi Jinping and top legislator Zhang Dejiang.