Sea of apricot flowers draws tourists to Pamir Plateau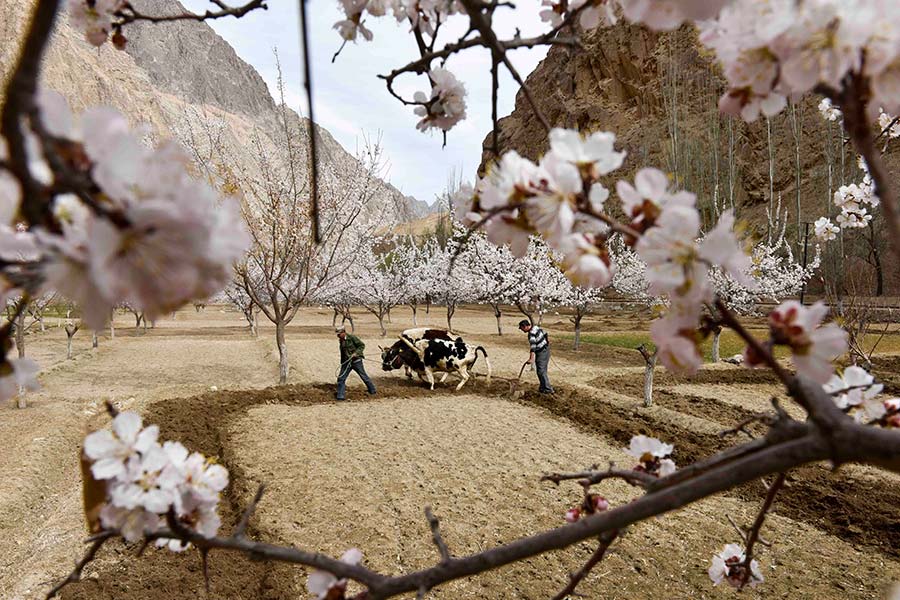 Two Tajik farmers turn the earth with help of an oxen-pulled plow. The apricot flowering season is busy farming time for Tajiks living on the Pamir Plateau in Xinjiang. [Photo/Xinhua]
Spring is returning to Pamir Plateau in the southwestern Xinjiang Uygur autonomous region: apricot trees are blooming, winter crops are turning green and Tajik farmers are preparing to plow their fields.
While snow still covers the mountain tops on the plateau straddling China, Tajikistan and Afghanistan, pink and white apricot flowers have turned the valleys of Datong township in Tashi Kuergan Tajik autonomous county into a sea of flowers.
Taxkorgan, the only county in China with Pakistan as neighbor, is on the highest part of the Pamir Plateau. Qogir Peak, the second-highest peak in the world at 8,611 meters above sea level, stands to the south. In the north, the snowcapped Muztagata Mountain is found at an altitude of 7,546 meters and numerous glaciers surround its base.
Enterprising Tajiks have built productive farms in the flatlands of the river valleys.
Datong township, with an average altitude of about 2,800 meters, enjoy a moderate climate throughout the year. Spring is a popular season to visit as blossoming apricots, green highland barley and tinkling rivers transform area villages into an earthly paradise.
【1】
【2】
【3】
【4】
【5】
【6】
【7】
(Editor:Huang Jin,Bianji)
Related reading