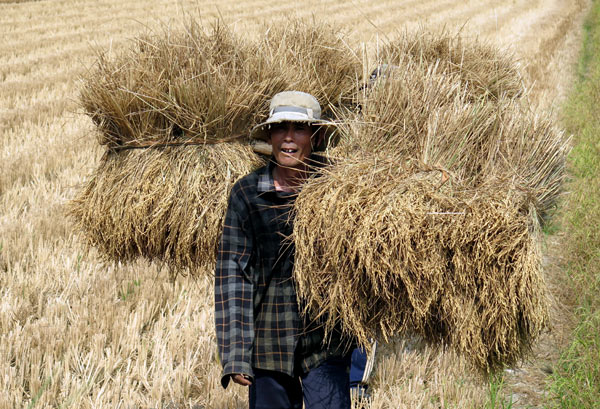 A farmer in Ben Tre province carries parched rice straw to feed cattle on Saturday. Vietnam has been struck by its worst drought in nearly a century and salinization of water is hitting farmers in the delta. China released an emergency water supply from its Jinghong Hydropower Station in Yunnan province to feed the downstream Mekong River from March 15 to April 10 to alleviate the devastating situation.Photos by Xinhua, Wang Jian / China Daily and provided to China Daily
The village where Vo Linh Hue lives is dotted with oyster farms, but in recent weeks farmers there have done nothing but clear dead oysters from the ponds.
Ben Tre province, in Vietnam's southern Mekong Delta, is experiencing the worst drought in recent history, and saline intrusion has hit rice and oyster farmers especially hard.
"This is the area where the river flows into the city. But now the seawater has pushed inland and killed all the oysters," said Hue, 23, whose family lives in the Ben Tre village of Thua Thanh and has relied on oyster farming for decades.
At the request of Vietnam, China has doubled the amount of water being discharged from the Jinghong Hydropower Station, which is in Southwest China's Yunnan province, to help alleviate the drought. The station is on the upper reaches of the river, which is known in China as the Lancang River.
Between March 15 and April 10, the volume of water discharged from the station is to be about three to three-and-a-half times the normal water flow, according to China's Ministry of Water Resources.
The first water discharged by China had already arrived at the section of the Mekong River in Vietnam as of Monday, according to Vietnam News Agency.
Tran Duc Cuonga, a senior official with the Mekong River Commission in Vietnam, said on Tuesday that the water discharged by China can supply the section of the river in his country until April 29.
The discharge can help reduce the intrusion of saltwater by six to 10 kilometers in several tributaries of the Mekong River, he told VNA.
"Even though the discharge will not completely solve the drought and saline intrusion problems, it will alleviate them," he said.
【1】
【2】
【3】