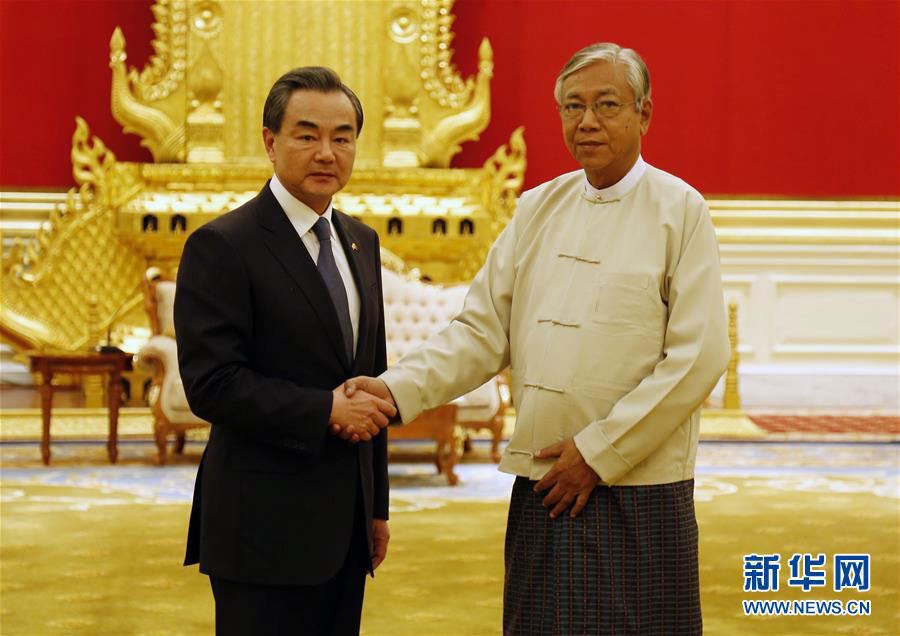 Chinese Foreign Minister Wang Yi meets with Myanmar President Htin Kyaw on April 6, 2016. [Photo: Xinhua]
China and Myanmar have pledged to further develop traditional friendship and deepen cooperation between the two countries.
While meeting with Myanmar President Htin Kyaw, visiting Chinese Foreign Minister Wang Yi says China hopes and believes that Myanmar's ruling National League for Democracy will sincerely cooperate and join hands with all parties to open up a new future for the country.
Wang says China will always pursue a good neighbourly policy towards Myanmar and is willing to develop the traditionally friendly relations with Myanmar's new government.
He said China is also willing to dovetail its own development strategies with those of Myanmar, and actively exploit further cooperation in the sectors of people's livelihoods, production capacity and infrastructure.
For his part, Myanmar President Htin Kyaw said the new government of Myanmar has much work to do in developing the economy and improving people's livelihoods, and agreed the two countries had a great potential for cooperation.
When meeting with the Commander-in-Chief of Myanmar's armed forces, Senior-General Min Aung Hlaing, Wang Yi said that China stands ready to jointly safeguard peace and stability with Myanmar along their borders.
He pointed out that military exchanges constitute an important part of the brotherly friendship between China and Myanmar and the two armies should carry on their friendly traditions.
For his part, Min Aung Hlaing said Wang's visit, the first of a foreign minister to the country after the new government took office, demonstrated the strong willingness of China to further promote its cooperation with Myanmar.
The general said Myanmar had always appreciated the support and help provided by China at hard times and said the Myanmar military is committed to pursuing a friendly policy towards China.
Wang arrived in Myanmar Tuesday for a two-day visit. The new Myanmar government led by President Htin Kyaw was sworn in on March 30.