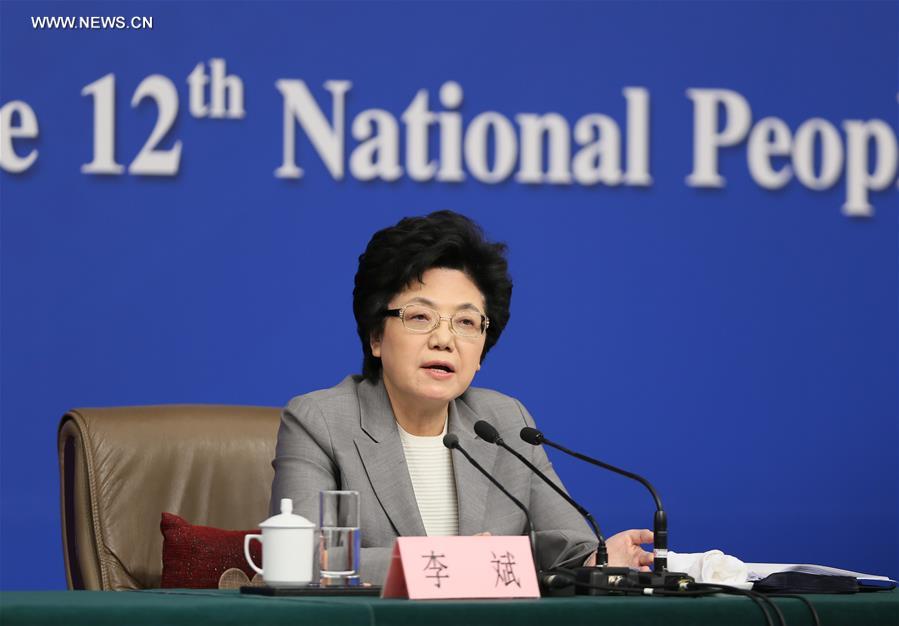 Li Bin, minister in charge of the National Health and Family Planning Commission, gives a press conference on China's two-child policy on the sidelines of the fourth session of China's 12th National People's Congress in Beijing, capital of China, March 8, 2016. (Xinhua/Chen Junqing)
BEIJING, March 8 -- China's family planning policy will not change in the foreseeable future, and there are no plans for a complete relaxation currently, a top health official said Tuesday.
Li Bin, head of the National Health and Family Planning Commission, made the remarks when addressing a press conference on the sidelines of the country's annual legislative session.
As of 2015, the Chinese population numbered 1.375 billion, compared to 320 million in the United States, the world's largest economy.
Li said China's per capita economic output was "considerably low" as was the average living standard.
"Our resources pale in comparison with our vast population. Until this changes, we will continue with the current family planning policy," she said.
"There is no timetable for the full relaxation of the policy [although] it will continue to be improved and adjusted," she added.
China this year allowed all married couples to have two children. This follows an earlier easing of the policy in 2013 that allowed couples to have a second child if either parent was an only child.
The latest change ended the "one child" policy since it was implemented in the late 1970s.
The two-child policy will see 3 million more children born in China every year.