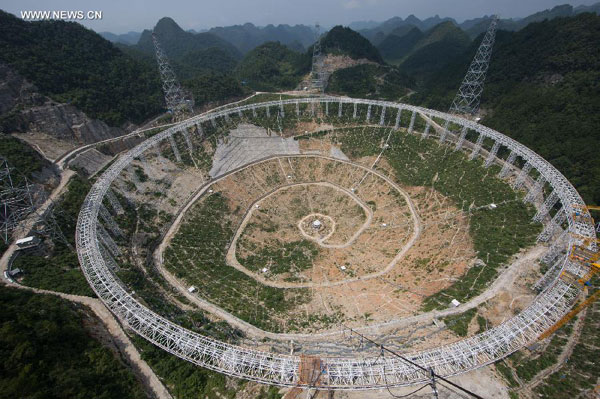 Photo taken on July 27, 2015 shows the assembly site of the five hundred meter aperture spherical telescope "FAST" in Pingtang county of southwest China's Guizhou province. [Photo: Xinhua]
Southwest China's Guizhou Province is expected to evacuate more than 9,000 residents for the protection of the world's largest ever radio telescope before its completion in September, local authorities said Tuesday.
The evacuation is facilitated by a proposal delivered last year by several members of the Guizhou Provincial Committee of the Chinese People's Political Consultative Conference (CPPCC), according to Li Yuecheng, secretary-general of the CPPCC Guizhou Provincial Committee.
The proposal asked the government to relocate residents within 5 kilometers of the Five-hundred-meter Aperture Spherical Telescope, or FAST, to create a sound electromagnetic wave environment, said Li.
The Guizhou provincial government is expected to resettle 9,110 residents in Pingtang County and Luodian County in four settlements by the end of September, he said.
Each of the involved residents will get 12,000 yuan (1,838 U.S. dollars)subsidy from the provincial reservoir and eco-migration bureau, and each involved ethnic minority household with housing difficulties will get 10,000 yuan subsidy from the provincial ethnic and religious committee.
Construction of the FAST began in March 2011 with an investment of 1.2 billion yuan.
Upon completion, the telescope will be the world's largest of its kind, overtaking Puerto Rico's Arecibo Observatory, which is 300 meters in diameter.