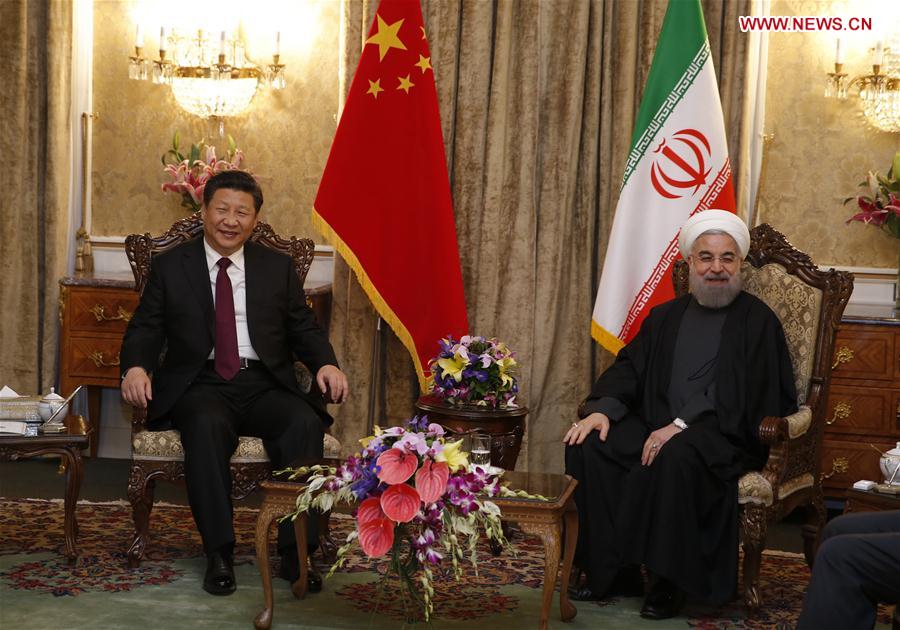 Chinese President Xi Jinping(L) talks with Iranian President Hassan Rouhani in Tehran, Iran, Jan. 23, 2016. (Xinhua/Ju Peng)
TEHRAN, Jan. 23 -- China and Iran, two ancient civilizations, agreed Saturday to elevate their ties to a comprehensive strategic partnership to boost cooperation on all fronts and carry forward their millennia-old friendship.
The consensus was reached during President Xi Jinping's visit to Iran, the first in 14 years by a Chinese head of state.
China and Iran have no fundamental conflicts, and there are only consistent mutual support and mutual benefit between them, Xi said during summit talks with his Iranian counterpart, Hassan Rouhani.
In history, there had been no wars or disputes between the two nations, and the two nations had conducted time-honored friendly exchanges and sincere cooperation, which date back to 2,000 years ago thanks to the Silk Road, Xi said.
"The China-Iran friendship is originated from friendly exchanges in history, from mutual assistance in difficult times, from unselfish support to each other on major issues, and from our concepts of mutually-beneficial cooperation. It has stood the test of the vicissitudes of the international landscape," Xi told Rouhani.
Xi's visit comes days after West-led sanctions on Iran were lifted following an announcement by the International Atomic Energy Agency confirming that Tehran had scaled back its nuclear program. China played a constructive role in prior negotiations.
China hopes the Iran nuclear deal, the Joint Comprehensive Plan of Action (JCPOA), can be implemented smoothly, Xi said, noting that China is willing to see Iran strike a brand-new pose on regional and international stages.
"China stands ready to work with Iran to lift our mutually-beneficial cooperation in such fields as politics, economy and trade, energy, infrastructure, security, and cultural and people-to-people exchanges to a new stage," the president said.
Xi also pointed out that China respects and supports the nations and peoples in the region to independently pursue the political systems and development paths suited to their national conditions, and the international community should help the region achieve economic and social development.
"China is wiling to maintain communication and coordination with Iran to safeguard peace and stability in the region and the world at large," he said.
For his part, Rouhani noted that Xi is the first foreign head of state to visit Iran after its nuclear issue was resolved, which demonstrates the level of positive and friendly relations between the two countries.
The president said the visit will be a milestone in the history of Iran-China relations.
Iran values China's important role in international affairs, bears in mind the long-term support and assistance China has given to Iran and thanks China for its contributions in helping solve the nuclear issue in a political way, Rouhani said.
In a joint statement issued after the summit talks, China and Iran announced that they agree to set up an annual meeting mechanism between the their foreign ministers as a part of the efforts to deepen mutual strategic trust.
The two countries said that they oppose all kinds of use of force or threatening with the use of force, imposing unjust sanctions against other countries, and terrorism in any form.
They believe that controversial or acute international issues should be resolved through negotiations and political dialogue.
The document also said that China supports Iran's application for full membership of the Shanghai Cooperation Organization (SCO).
Iran is now one of six observers of the SCO, which was founded in 2001 and now has China, Kazakhstan, Kyrgyzstan, Russia, Tajikistan and Uzbekistan as its full members.
A slew of cooperation deals were also signed Saturday, covering various fields such as energy, industrial capacity, finance, investment, communications, culture, judiciary, science and technology, news media, customs, climate change and human resources.
PRACTICAL COOPERATION
During the summit talks, the Chinese president listed a few priorities in the all-round practical cooperation with Iran -- energy, interconnectivity, industrial capacity and finance -- within the framework of Belt and Road Initiative, a vision Xi put forward in 2013 to boost interconnectivity and common development along the ancient land and maritime Silk Roads.
Xi called on the two countries to build a long-term and stable cooperative relationship in energy area, and carry out cooperation in railway, highway, port, mining, communications, engineering machinery and infrastructure construction.
The president urged the two sides to strengthen the communication and synergy of the economic and industrial policies for cooperation in industrial capacity, and study new patterns in financial cooperation and enhance collaboration within the China-initiated Asian Infrastructure Investment Bank.
Rouhani echoed Xi's words saying that Iran will actively respond to the Belt and Road Initiative and carry out closer communication and coordination with China on international affairs.
A Memorandum of Understanding on jointly pursue the initiative between the two countries was signed after the talks.
Xi's visit has drawn wide applause in Iran, as the Middle East nation is wooing investment and international tourists in its post-sanction era.
According to an Iranian economic daily, the Financial Tribune, Chinese tourists currently make up barely 1 percent of the country's 5 million inbound tourists a year, and Iran wants more.
Iran has already simplified the visa process for Chinese nationals and is also taking further moves to lure Chinese tourists, the newspaper said Saturday.
"We are opening more Chinese restaurants and training travel guides to speak Chinese," it quoted Masoud Soltanifar, the head of the Iran Cultural Heritage, Handicrafts and Tourism Organization, as saying.
【1】
【2】
【3】
【4】
【5】