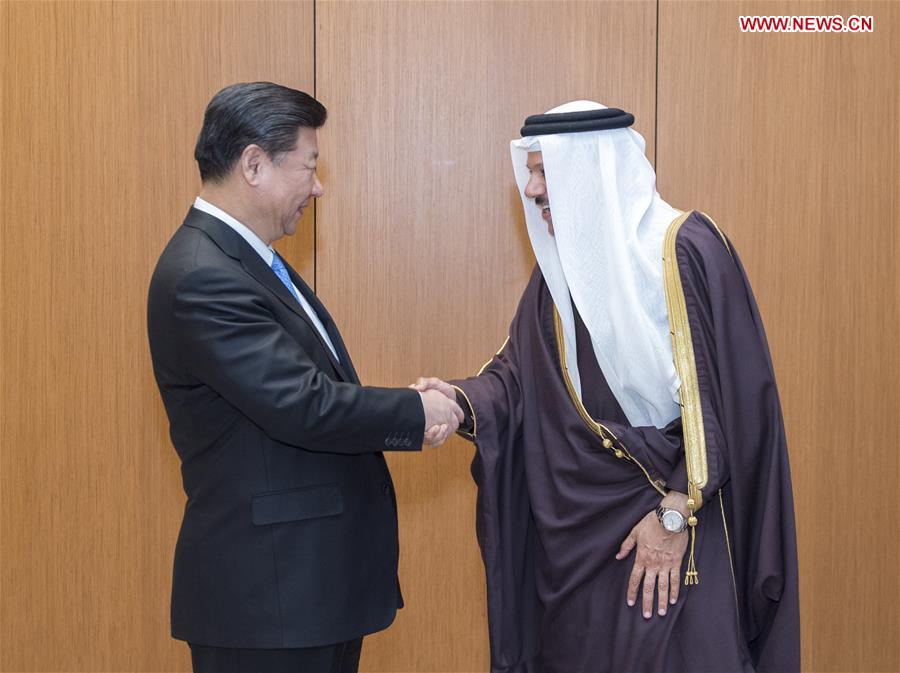 RIYADH, Jan. 19, 2016-- Chinese President Xi Jinping (L) meets with Gulf Cooperation Council (GCC) Secretary-General Abdul Latif Bin Rashid Al Zayani in Riyadh, Saudi Arabia, Jan. 19, 2016. Xi arrived here on Tuesday for a state visit to Saudi Arabia, the first stop of his three-nation tour of the Middle East. (Xinhua/Wang Ye)
RIYADH, Jan. 19 -- Visiting Chinese President Xi Jinping met here Tuesday with Secretary-General Abdul Latif bin Rashid Al Zayani of the Cooperation Council for the Arab States of the Gulf (GCC) and the two sides agreed to boost trade and energy cooperation.
Xi, on a state visit to Saudi Arabia, said China is willing to carry out comprehensive energy cooperation with the GCC countries and be a long-term, stable and reliable energy market for the six-member bloc.
The Chinese president suggested the two sides also deepen cooperation in infrastructure, telecommunications, power generation, investment, aerospace, and nuclear and renewable energy.
China welcomes the resumption of and substantial progress in the China-GCC free trade talks and hopes that the free trade area will be up and running as early as possible, he said.
Zayani, for his part, said that all GCC members support forging closer ties with China.
They all agree that the free trade talks should be advanced, he said, adding that they are happy to see the virtual conclusion of the negotiations on trade in goods.
The GCC, he said, expects more cooperation with China under the Belt and Road Initiative, a vision Xi put forward in 2013 to boost interconnectitity and common development along the ancient land and maritime Silk Roads.
Xi, whose country seeks to boost friendly ties and practical cooperation with the Middle East, arrived in Saudi Arabia on Tuesday for the first leg of his three-nation tour of the region, which will also take him to Egypt and Iran.