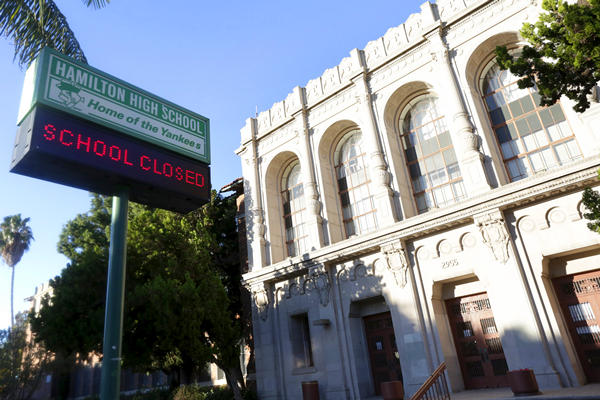 A sign at Hamilton High School is pictured reading "School Closed" in Los Angeles, California December 15, 2015. [Photo/Agencies]
LOS ANGELES - Los Angeles shut more than 1,000 public schools on Tuesday over a threatened attack with bombs and assault rifles, sending hundreds of thousands of students home as city leaders were criticized for over reacting to what federal officials later said was likely a hoax.
The emailed threat, which authorities said was "routed through Germany" but likely more local in origin, came less than two weeks after a married couple inspired by Islamic State killed 14 people and wounded 22 others at a county office building in San Bernardino, just 60 miles (100 km) away.
"Based on past circumstance, I could not take the chance," Los Angeles School Superintendent Ramon Cortines said at a news conference.
Federal officials, who asked not to be identified, echoed an assessment by New York City Police Commissioner William Bratton that the decision in Los Angeles was an "over reaction" and that New York had received an almost identical threat that was quickly deemed not credible.
Los Angeles Mayor Eric Garcetti said he backed the decision and Police Chief Charlie Beck said it should not be second-guessed because the threat was "very specific to Los Angeles Unified School District campuses."
Beck said the email mentioned assault rifles and machine pistols and implied the use of explosives.
But the unprecedented move at the second-largest public school system in the United States left some 643,000 students and their families scrambling to cope and drew criticism.
A law enforcement source said that Los Angeles authorities ordered the closure to allow a full search of public school facilities without consulting with the FBI, which typically takes the lead on investigations into potential terrorism.. Some public schools in the city remained open as did most private schools.
【1】
【2】