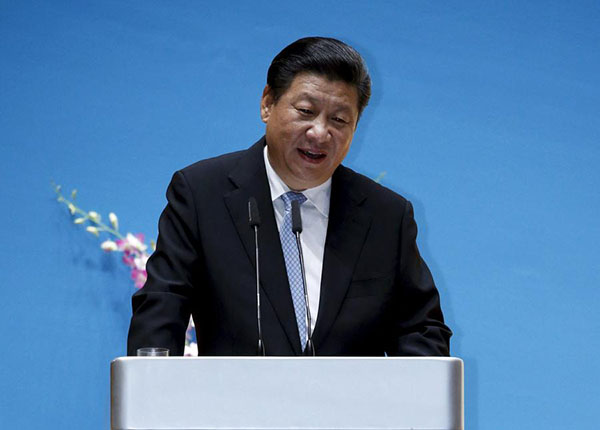 President Xi Jinping speaks during the "Forging A Strong Partnership to Enhance Prosperity of Asia" Lecture at the National University of Singapore, Nov 7, 2015. [Photo/Agencies]
President Xi Jinping's visit to the Philippines for the Asia-Pacific Economic Cooperation meeting from Nov 17 to 19 has quelled speculations that the maritime disputes with the host nation could make him decide otherwise.
Last week Philippines President Benigno Aquino III assured visiting Chinese Foreign Minister Wang Yi that the APEC meeting would focus on Asia-Pacific regional economic cooperation without raising the disputes in the South China Sea, as most members including China had agreed. But the US State Department has hinted that the South China Sea issue could be raised during the meeting despite Manila's efforts to prevent the agenda from deviating from free trade and sustainable growth in and common prosperity of the Asia-Pacific region.
As the world's second-largest sea-lane that connects the Indian Ocean and Pacific Ocean, the South China Sea is of great strategic importance to all countries in the region, as well as the US and European countries.
Nearly 80 percent of global trade depends upon maritime transportation, and about one-third of it is carried out through the South China Sea, which sees the passage of at least 40,000 ships a year. The number of oil tankers that sail through the Strait of Malacca, a critical passage through regional waters, is almost three times that of the Suez Canal and five times of the Panama Canal. Two-thirds of the global trade in liquefied natural gas is also conducted through the waterway.
China has more stakes that any other country in safeguarding peace and stability in the South China Sea, because it is a major channel of its global economic network. So ensuring smooth transportation (of energy sources) and navigation through the South China Sea is not only conducive to the shared interests of all Asia-Pacific economies - such as China, the US, Japan, the Republic of Korea and the Association of Southeast Asian Nations - but also economies elsewhere.
【1】
【2】