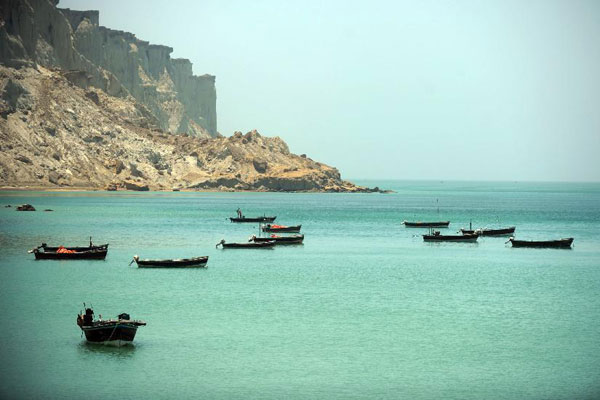 Fishboats berth in the bay of Gwadar, southwestern Pakistan, on May 11, 2015. [Photo: Xinhua]
A Chinese firm has officially taken control of Pakistan's Gwadar Port free-trade zone.
Under the agreement, China Overseas Holdings Limited will manage the free-trade zone on a 43-year lease.
The formal handover signals the Chinese side's control of all the port's business affairs.
Chinese foreign ministry spokesman Hong Lei says enterprises in China and Pakistan will continue to promote development of the Port in southwestern Pakistan on a principle of equal consultation and mutual benefit.
"Chinese enterprise's taking over of the management of the Gwadar Port is a commercial program under economic and trade cooperation of China and Pakistan, and a part of the two countries' friendly and mutually beneficial cooperation."
Gwadar port is a deep sea port that sits next to the Strait of Hormuz, the key oil route in and out of the Persian Gulf.
As part of the China-Pakistan Economic Corridor scheme, China plans to make Gwadar a transportation hub by building a 3,000km railway linking Xinjiang, in western China, with Gwadar.
For more on the handover of Gwadar Port, CRI's Zhao Yang spoke earlier with Einar Tangen, Former Chairman of the State of Wisconsin's International Trade Council.