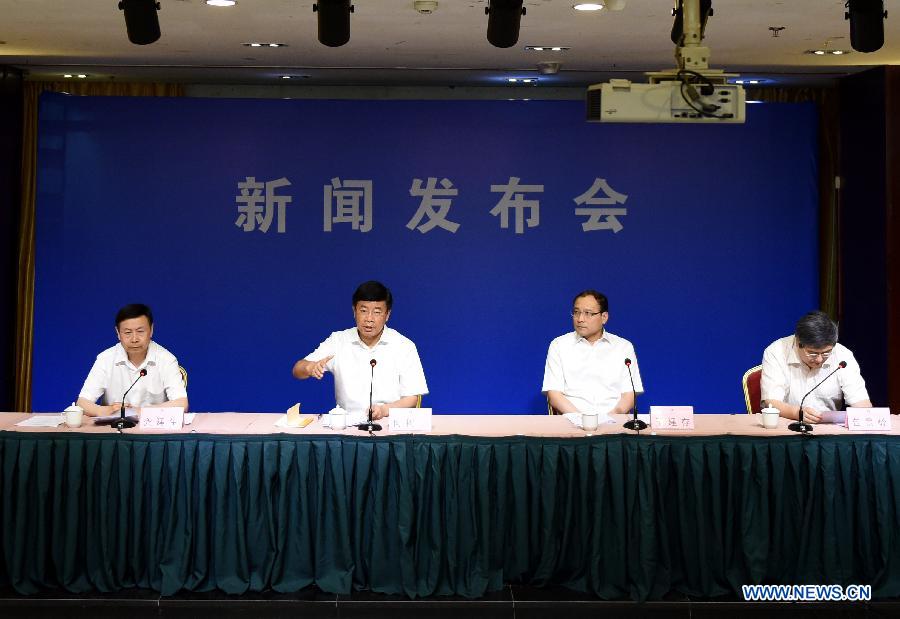 He Shushan (2nd L), deputy mayor of Tianjin, speaks at a press conference in Tianjin, north China, Aug. 17, 2015. Most of the sodium cyanide surrounding the Tianjin blast area will be collected and cleared by Monday evening, He said here Monday morning. The chemicals were scattered mostly within a 100,000-square-meter core area. Monitoring has shown air quality in the area and water in the nearby river are within safe standards. (Xinhua/Zhang Chenlin)
TIANJIN, Aug. 17 (Xinhua) -- Thousands of rescuers, soldiers and medics have been mobilized to search for the missing, clean up toxic chemicals and treat the injured after last week's Tianjin explosions.
The death toll on Monday rose to 114 after a warehouse storing hundreds of tons of toxic chemicals exploded last Wednesday in the city of Tianjin. About 700 were hospitalized, thousands of cars were destroyed, and nearby buildings were damaged in the blasts.
Rescuers increased their efforts to clear dangerous chemicals at the blast site as rain predicted for Monday afternoon could create toxic gas.
The Tianjin environmental watchdog said it is closely monitoring the rain and its possible effect on the toxic materials.
More than 2,000 soldiers and armed police officers have been called to clean up an area with a radius of three kilometers, said Shi Luze, chief of staff of the Beijing Military Area Command.
Biochemical troopers finished their search of the core of the blast site and collected all toxic chemicals detected. They also removed toxic chemicals from the soil.
With 200 more biochemical troopers arriving on Monday, chemicals scattered around the periphery of the site are also scheduled to be cleared.
Tianjin Vice Mayor He Shushan promised at a press conference that all dangerous chemicals at the blast site's outer area would be eliminated by Monday evening.
A dam circling the blast site is being cemented to make sure polluted water will not leak to outside areas, said the vice mayor in charge of safety, who first appeared in public five days after the explosions.
The soldiers on Monday also started cleaning up chemicals stored in containers.
Leading chemical experts, biochemical troopers and environmental specialists are checking air conditions and nearby rivers to see if the pollutants exceed national standards.
Meanwhile, rescuers are combing residential quarters and an area of the harbor that they called "a maze of containers" for the 70 people who remain missing.
"Navigating through the blast zone is extremely dangerous because of the burning chemicals and twisted containers, which could collapse at any minute. We had to make marks in order not to get lost," said Wang Ke, who led a group of chemical specialist soldiers.
"We will keep searching as long as we are ordered to do so," the soldier said. "In previous searches, we found survivors more than 100 hours after the accident."
The blasts have affected 17,000 households and 1,700 enterprises. At least 6,000 residents have been displaced.
In hospitals across the city of Tianjin, 4,000 doctors and nurses, including some of the country's leading medical experts, are treating patients injured in the blasts.
As of Monday morning, 698 people were still in hospitals and 57 of them were in critical condition.
"We are using the best of our resources," said Wang Jiancun, director of Tianjin Health and Family Planning Commission.
Wang said 77 people have left the hospital after recovering.
TRANSPARENCY, ACCOUNTABILITY
Premier Li Keqiang visited the site of Tianjin explosions on Sunday afternoon.
Li ordered the swift release of information about the explosions in order to let the public know what happened in a timely manner.
Li told the environment staff to keep monitoring the environment around the clock and release accurate, authoritative environment information as the public are highly concerned about the air, water and soil quality around the blast site.
The information should be publicized in a timely manner without any omissions, he said.
The State Council, China's cabinet, has set up an investigation team to find out what caused the explosions.
Li asked the investigation team to find out the cause thoroughly and punish those with dereliction of duty severely.
NATIONWIDE SAFETY CHECK
China rolled out a nationwide examination of dangerous chemicals and explosives after the deadly explosions.
The State Council issued an emergency notice on Friday asking governments at all levels to reinforce safety management for dangerous chemicals and explosives, control access to the materials, and implement special regulatory measures for highly toxic chemicals.
The cabinet also urged governments at all levels to crack down on illegal activities to ensure safety.
After the explosions, Beijing ordered inspections of all businesses that handle dangerous goods.
Zhang Yankun, Beijing vice mayor, said the city's work safety department will inspect all explosives manufacturers and enterprises.
In preparation for the military parade on Sept. 3 and the Athletics World Championships from Aug. 17 to Sept. 6, production and operation at the companies and plants will be suspended. All toxic chemicals must be sealed, stored and guarded by designated personnel, the vice mayor added.
Companies related to dangerous chemicals, including Sinopec and Petro China, have been ordered to carry out safety inspections on themselves.
Following the central government's instructions, Hubei, Hunan, Shaanxi, Shandong, Guangdong, Zhejiang and Hainan provinces have all conducted safety checks of businesses that deal with dangerous goods.
Guangdong and Zhejiang provinces have also begun safety checks for ships that transport toxic chemicals.
In Wuhan City in Hubei Province, an inspection team found several hidden dangers in a storage area for dangerous chemicals.
Cooling systems for chemicals that require cyropreservation were not turned on until the inspection team arrived, officials with the team said.
Water for the spray cooling system also wasn't filtered before it was discharged to the sewer, which could pollute the city's water circulation system if chemical leaks had occurred.
The team also found one company failed to indicate the names and properties of toxic chemicals, making it hard to determine proper storage procedures for them.
Related:
Premier Li pays respects to firefighters lost in Tianjin blasts
TIANJIN, Aug. 16 (Xinhua) -- Bowing to the photos of the deceased firefighters, PremierLi Keqiangon Sunday paid respects to those young men who lost their lives in two massive warehouse blasts in north China's port city of Tianjin that have killed 112.
"They are all heroes and deserve the respect of the whole society," said Li, while visiting a brigade of Tianjin fire department.Fullstory
Chinese police chief stresses transparency in handling Tianjin blasts
TIANJIN, Aug. 16 (Xinhua) -- Chinese Public Security Minister Guo Shengkun ordered authorities Sunday to release information concerning the Tianjin blasts and rescue operation in a timely and transparent manner, to respond to public concerns.
Speaking at a meeting on rescue work, Guo also urged local authorities to continue to search for survivors while properly disposing of the dangerous chemicals around the blast site and preventing further accidents.Full story
Port operations return to normal after Tianjin blasts
TIANJIN, Aug. 17 (Xinhua) -- Operations at the Tianjin port in north China have returned to normal following warehouse blasts on Aug. 12 that left more than 200 dead or missing, the port authority said Monday.
Port operations and ship traffic were partially suspended following the huge explosions at a warehouse for hazardous chemicals, said an official with the Tianjin Port Group Co.Full story
【1】
【2】
【3】
【4】
【5】
【6】
【7】
【8】
【9】
【10】
【11】
【12】
【13】